Dec 20, 2009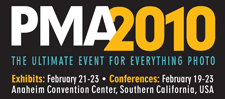 The 86th annual PMA International Convention and Trade Show is coming. It takes place at the Anaheim Convention Center in Southern California from February 21-23. This is the ultimate show to be at for everything photo related. In addition to the trade show there are 5 simultaneous conferences going on, each relevant to specific industry segments. PMA members can purchase an "All Conference Convention Pass" for $299 and non-members for $399. This will give you access to everything so you can pick the training that's best for you.The other major PMA events going on at the Anaheim Convention Center are:
If any of you are planning on attending PMA and are interested in doing some reporting for us, send me and email, I'd love to talk to you about it.
Designer, photographer, co-host of The Digital Photography Cafe Show, founder of Current Photographer and overall tech geek.
Latest posts by Trevor Current (see all)