Show of hands…How many of you, when you got your iPhone, immediately thought, "I need a tripod for that!" Okay probably not. Me either. But I am a tripod person. My wife rolls her eyes when the first item that goes into my suitcase for every trip is a tripod. I like to do HDR and long exposure shots with my DLSR, so a tripod is standard equipment for my DSLR. But for my phone?
So when the good folks at YOUBIQ asked if I would like to try a Gymbl, I must admit that I was skeptical. Would I really use this thing or is it one of those accessories that would take up space? So it sat on my desk for a few weeks. When I went to Asheville North Carolina on business in August I made it a point to take Gymbl with me.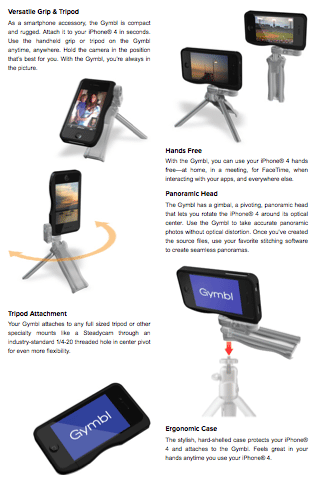 I first replaced my InCase cover with the one that comes with Gymbl. I must say that I am not usually a fan of slider cases–those in which your phone slides into. The unique feature of the Gymbl case is that one the right top corner there is a slot that connects the case to the Gymbl device. Other than that, it looks like a normal case. It is made of hard plastic and fits my had very well. Again, I was skeptical of a slider case at first, but soon got used to it. Since then, I have really become fond of the case. In fact, I have not removed the case since I first put it on. I like it that much. In fact, it's the best case I have ever used with my iPhone (and I've had a few).
Now to the Gymbl. When you pull it out of the box the first thing you notice is the quality of construction and its components. It is made of clear plastic and brushed aluminum. A quick look at the parts lets you know quickly that they are precision machined. No angle is cut by accident. It is clear that the device has been painstakingly designed. It is lightweight and the grip is comfortable. But what can you do with it?
I'm not a videographer, so there is likely a great deal that a videographer can do with this device. If you are a videographer, you might want to check out the YOUBIQ website for more applications. Read More→