Archive for Lighting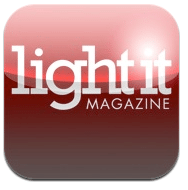 August 24, 2011 – PRESS SUMMARY – Today, best-selling Photoshop® and photography book author, Scott Kelby released a new iPad-only digital magazine called Light It: The How-To Magazine for Studio Lighting and Off-Camera Flash through his KelbyTraining.com division. The debut issue is free and available now on iTunes in the App Store.
Light It is for photographers of all skill-levels who use lighting or want to explore lighting concepts. The debut issue of Light It is being distributed free of charge as part of the Light It app, also free, that serves as the "magazine rack" for all future issues. No subscription is required.
The free debut issue of Light It features contributions from executive editor Scott Kelby, with features from editorial photographer Zack Arias; Help-Portrait founder Jeremy Cowart; and one of today's most influential photographers Joe McNally. Regular contributors include Matt Kloskowski and Rafael "RC" Concepcion from The National Association of Photoshop Professionals (NAPP) and KelbyTraining.com; sports, adventure, and editorial photographer Tom Bol; senior portrait photographer James Schmelzer; fashion photographer Frank Doorhof; wedding photographer and Guinness record holder Jason Groupp; commercial photographer Erik Valind; and Brad Moore.
"The future is digital, so there will be a digital version of everything we do going forward. There has to be. The cheese has been moved." – Scott Kelby Read More→