Archive for Website Tutorials
The digital age has definitely become a part of who I am, connected to the internet at every turn, but I am far from being an expert at any of it. Social networking, blogging, websites, etc. – I know a little about all of it, but that's about it. If you're similar to me in this way, then you can understand how difficult it was to go through the process of designing a totally new website. But I did it and am totally happy with the results (see for yourself here), so I thought it might be helpful to share some of what I learned with the other Jacks of all trades, but masters of none out there who plan to go through the same pain in the future.
Why?
You might be asking, "Why would someone who has been blogging for sometime now want to go through a total redesign?" That's a great question and one that we should all address before actually going through with one. Jeremy Cowart was doing a website review for some of the folks at the Lifefinder Tour (Awesome – please go if you can) here in Minneapolis earlier in the year and the same thing kept coming up with each review – your website needed to reflect who you are as a photographer, not just the pictures you take. And it needed to do it quickly, because visitors are not going to stick around if they're looking for something and you're not showing it.
This hit me pretty square in the face being that my website was 100% my blog, which is primarily one picture a day and not one that interacted with the business I was trying to build (family and event photography). If my website was going to mean anything to helping my business grow, it was going to have to change. The decision was made.
The Brand
Unfortunately, this decision to do a redesign was just the start of the hard work. The next step was to decide who I was as a photographer and how to brand myself. I had never done that before and had put little thought to it, but if your website was going to be you, a decision needed to be made of who you are! The first thing we see and think of for most businesses is their logo or a trademarked product, neither of which I had, so that was the starting point.
For a long period of time, I tried to come up with my own logo design, but as stated in the first paragraph, I am no expert at anything so this turned out to be a spinning wheel kind of thing and lasted much longer than intended. I finally contacted a designer who had put together some of my friends' logos and worked with him to get one put together. The key, once again, was for the logo to represent who you are. I needed something simple, photo related, somewhat informal (no BOLD type) but unique. I think we hit pretty much on the head.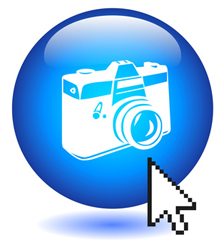 Finding new clients is a big part of being a freelance photographer. It is even harder when you are starting out and have yet to make a name for yourself. Some of the channels you can use to build your reputation include phone, email, word-of-mouth, and networking. But one channel in particular works harder than all the rest.
A website is the bedrock of all your marketing efforts and even targets clients while you sleep. This makes it the ultimate client acquisition tool for the successful freelance photographer.
To ensure your website is working hard for you, make sure it:
Has good content related to your specialist area. This will attract the attention of search engines.
Builds up a good collection of links to other photographers.
Effectively communicates your unique brand.
Looks professional.
And, of course, is a showcase for your best work.
Photographers and technology
Some freelance photographers love technology and are happy to while away their evenings fine-tuning websites and updating blogs. For others, knowing how to use image editing software is as far as it goes.
Open-source system WordPress.org is probably the most popular website platform among freelancers. It is very easy to use once it has been installed and fitted out with a template.
WordPress's biggest advantage is that it has an endless supply of plugins and extensions. This means the sky really is the limit in terms of functionality. It has its drawbacks too, though. It needs to be updated on a regular basis to keep your website secure, which is a bit of a hassle – not to mention time-consuming. Thankfully there are easier options. Read More→

Richard Harrington shows how to publish video from your Mac or PC to YouTube. This clip is targeted to HDSLR video makers… but anyone can benefit. Learn how to get the best image quality and cut down your upload times by pre-processing.
You can learn more about Richard on his webiste and follow him on Twitter @rhedpixel.
-