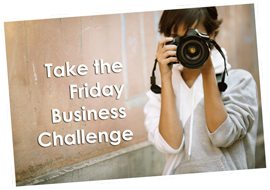 A huge thank you to everyone who participated in the Friday Business Challenge bought to you by Current Photographer and Today is Different. Did you miss the 7 weekly challenges? If you did it's not too late to go back and check them out?
So if you stayed with us, how did you go with the challenges? We'd love to hear your comments. If you are saving them up for a rainy day, that's cool as well!
If you particiapted in the challenges and want to see more from me at Today is Different pop on over, have a look around and get a free marketing promotions planner if you subscribe.
Bye for now and happy challenging…
Robyn
–


I am a portrait photographer and a workshop facilitator. I am passionate about what I do and thrive amongst people who are innovative and love what they do. I am in my element in the midst of conversations where ideas are spread and opportunities are discovered.
Today is Different provides workshops, retreats and consulting for professional photographers in Sydney, Australia.
We help you to:
Find your uniqueness and your fantabulousness
Stop selling products and services and start providing
an experience
Find clients that you love and that love you right back
Simplify by focusing on what is truly important

Company: Today is Different
Phone: +61 403 500 801
Email: robyn@todayisdifferent.net
Website: http://www.todayisdifferent.com.au/
Blog: http://www.todayisdifferent.com.au/blog
Twitter: @RobynMayne
Facebook: http://facebook.com/TodayIsDifferent

© 2011 Robyn Mayne
Here's how you can share your tips, techniques and tutorials on CurrentPhotographer.com
–