Personally, I love knowing what other photographers are carrying around with them.  So in anticipation of summer travel season, I thought I would share what's in MY bag!
First of all, my actual bag – Tamrac 3385 Aerospeed Backpack.  This backpack has a padded back, holds all of my camera gear as well as my laptop.  I only wish it had a chest and/or waist strap for additional stability.  But it isn't that expensive, so I don't really have any complaints.  It has the added benefit of being able to access my camera from the front or from the side.  And the zippers are all waterproof and/or protected so if I get caught out in the rain I don't get too worried.
I also added one pair of Tamrac S-113 cam-lock cinch straps so that I can lash my Sunpak 620-660PG pistol grip tripod to the bottom of the backpack.  I love this tripod – its super cheap (under $60), super light (despite being aluminum instead of carbon fiber) and the pistol grip make maneuvering SO easy!  It has levels, too.  I will likely upgrade to the carbon fiber model soon, but for right now this serves all of my purposes for a very reasonable price.
Now, as for what is inside the bag…a 17″ MacBook Pro loaded with Apple Aperture 3.  I recently upgraded to 8GB of RAM and a solid state hard drive.   I ordered the hard drive and RAM from Amazon and installed them myself.  I also have two external hard drives – one that is partitioned as my Time Machine backup and iTunes library and the other that stores the master files for my Aperture library.  I should probably have another external drive to mirror the Aperture library for additional backup, but I haven't gotten around to it yet.  Storage is so cheap there is really no excuse.  I'd also like to add here that I used to store the master files for my Aperture library on the original hard drive of my laptop.  I found this to be very slow when editing.  So I upgraded the hard drive to a solid state drive, added the additional RAM and relocated my masters to the external drive and the increase in speed has been significant.
Also in my bag is one of my secret weapons – an Apple AirPort Express.  I spend A LOT of time in hotels, usually in Marriott properties.  Most of the hotels I stay in charge for internet access and they charge per device.  Well, I travel with my husband and we each have a laptop. an iPhone and an iPad.  So that is six devices.  If I plug in my AirPort Express I can create a wireless network with one device and then all of my devices can connect to the internet on the same charge
My last piece of computer equipment is an Apple Magic Mouse.  Using the trackpad, especially when photo editing, gets really old.  The Magic Mouse is small, lightweight, wireless and just plain awesome (I admit, I'm a huge Apple fan).
Okay, moving on to camera equipment…I shoot with a Nikon d90 with the 18-105 kit lens.  I also have a Nikkor 50mm f1.8.  Personally I think everyone should own this lens.  It's a great value (you can often find them used for under $100) and it really changed my understanding of photography.  I suddenly "got" what fast glass meant and realized how to play with depth of field.  This lens was a huge turning point in my development as a photographer.  I also have a Sigma 70-300mm macro that I've had since the days of film (when I shot on Auto and didn't know ANYTHING about composition or the technical aspect of photography…heck, I didn't even know what macro meant).  And a Nikkor 80-200 f2.8.  This was my latest acquisition and I don't use it nearly as much as I should – probably because I need to work on my upper body strength!
I also carry a Nikon SB-600 Speedlight, a wireless remote shutter release, a GPS dongle, d90 Quick Reference guide, extra batteries, SD cards, an SD card reader, my iPod with Sony noise canceling earbuds, a brush and a Giotto Rocket Air Blaster for camera cleaning and a Lastolite EZ balance gray card.  I particularly like the Lastolite because it folds up to fit in a small storage pouch and it has a target printed on the surface so that the autofocus doesn't go crazy when I try to find the correct exposure or create a custom white balance.
I also carry my iPad, on which I have loaded the PDF owners manuals for my camera body, speedlight, and all lenses.  I also have digital magazine subscriptions (like Outdoor Photographer and Shutterbug) that I read on the iPad.  And videos.  Honestly, on most trips (unless I have to do some photo editing or just can't wait to look at my pictures) I don't even take my laptop out of the bag.  I use the iPad for everything.
And finally, I carry an assortment of charging devices for all of my stuff.  Camera battery charger, iPhone/iPad charger and laptop power supply.
Whew…that is A LOT of stuff.  Probably more than I need to be carrying around, but I have this terrible fear of being away from home and needing something I haven't brought with me.  So I will probably continue to carry everything with me…
This post contains links to my affiliate partners. Purchasing products and services through these links helps support my efforts to bring you the quality information you love and there's no additional cost to you.
no images were found
–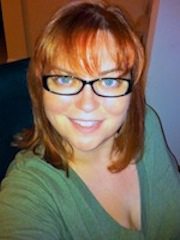 Gabriel Leigh Studios was established in 2009 as a photography studio specializing in travel and commercial stock photography.
Andrea Gonzales has been in love with photography and travel for as long as she can remember.  After several years of hard work she was able to leave the daily 9-5 grind in July 2010 and now travels as often as possible.
Company: Gabriel Leigh Studios
Website: http://www.gabrielleighstudios.com
Twitter: @GLeighStudios
Facebook: http://www.facebook.com/pages/Gabriel-Leigh-Studios/113471438698423

Photo Credit: © 2011 Andrea Gonzales
Here's how you can share your tips, techniques and tutorials on CurrentPhotographer.com
–