Last Minute Christmas Must Have Gear for Shooting Video with DSLR's (2010)
By
Last Christmas, I wrote a piece about some of the gear I wanted or thought I needed for Christmas when it came to shooting video with an HD DSLR camera. I had the folks at Zacuto tell me that they STILL get referral traffic from this post, so I thought I'd update it for you last minute Christmas shoppers and at the same time, tell you how well I did on each item during the last year. Of course, I'm in the middle of writing my series of posts on how I'm FINALLY making my first video, so you'll get more detail about some of these items in those posts. So, here's the (updated) 2010 list:
The Gear
OK, so I wasn't able to find ONE place that told me just what I'd have to have in order to shoot video with these new DSLR's. How about just a simple list, with the gear, where to get it and the price! How about some kind of order to what you should get first (my opinion, so you MAY not agree) and what about software? What the heck do you need? I figured this would be a good thing to do in case anyone (or my wife) was looking to buy something for me for Christmas. Well, here's my list:
Z-Finder from Zacuto – just a MUST have to see the back of the screen better and to help focus. It also helps stabilize the camera for video – $395.00
2010 – I did buy this, and I stand by my thoughts that this is just something you have to have whether you shoot video OR stills.
Manfroto BHDV 561 Monopod with a fluid head – this works great for stills too, but you can sure get some more stable video for not so much money – $274.95 OR
Miller 1643 Tripod with DS20 Fluid Head – this is one of those EXPENSIVE video tripods that they say you MUST have because a stills tripod will just not work – $1,324.95
2010 – I was really fortunate in that I have a Manfrotto tripod base and I was able to buy the 501 HDV fluid head for it for only $164 from B&H!
Rode Videomic – camera mounted shotgun mic – $149.00
2010 – I bought this microphone and I love it! There are many situations where other solutions are better, but if you want the fastest and cheapest way to improve your audio, this is it.
Zoom H4N Handy Mobile 4-Track Recorder – this would go on top of your DSLR to record a separate audio track – $299.00
HOWEVER, you need to mount this to your camera, so you also need the next item if you get the Zoom
2010 – this is one of my next purchases, BUT it means separate audio and video tracks and that means you have to have the software to sync them. This opens up the whole discussion of what platform is best (MAC/PC) and which software that can do the best job.
Zound Hotshoe from Zacuto – this mounts to the top of your camera hot shoe and allows you to then attach the Zoom H4N – $183.00
2010 – yup – going to have to spring for this
Of course, if you then have the Zoom H4N AND the Zound Hotshoe, you need lavaliere mics to hook people up
Sony UWP-V1 Wireless Lavaliere ENG Microphone Package – $525.00 – but then, if you mic TWO people double this! AND – if you have a separate audio track, then you MUST be able to sync the audio and video up
2010 – I've got ONE old Sony Lavaliere mic and it's OK, but I'm going to have to improve things in 2011.
Movie Film Clapper Board – $37.99
2010 – you know, I REALLY have to buy this thing – I need one!
Zacuto DSLR Rapid Fire – $551 – this is for run & gun filming, but it will help stabilize the camera as well
2010 – I'm testing the Tactical shooter from Zacuto right now, but am not finished with my testing.
Vari Neutral Density Filters – $390.00 – to control the amount of light coming in and still let you keep the depth of field that you want (make sure you get the correct size for the lenses you are going to use them on)
2010 – This is my NEXT purchase for 2010/2011. I didn't realize that this thing is REALLY important for both landscape AND video shooters, so it's something that will be 'coming soon'.
Canon TC80N3 for Time Lapse Film making – $136.95 – if you want to put together a series of still images, taken over a period of time, this is the device to do it.
2010 – I went ahead and got this, but you know what? Haven't even used it yet…a time lapse of the Christmas Eve party at my house maybe?
Final Cut Studio 3 (for Mac) – $819.00 – you've got to have software to edit this stuff – iMovie can work, but this is the pro deal
2010 – The latter part of this year was a learning experience for me when it came to editing video. I've had to eat crow and admit that the MAC platform is better for editing video. The good news is, I have access now to a MAC mini, AND a Mac Book Pro! I've been shooting some video for the company I work for about six times a week. I've only been using iMove, which does a pretty good job for simple things. I didn't have the money for Final Cut Studio, so Christmas is bringing me Final Cut Express. At about $170, it's a step up from iMovie, but a lot less than FCP.  We'll see how it works.
Sony Vegas Pro 10 (for PC's) – $499.95 – I've tested the 30 day demo a bit – a LOT to learn, but once again, you need SOMETHING to edit the video with! I decided against using it AND the PC platform for video.
F-Stop Academy Training DVD's for the 5D and 7D – $135 or $120 depending on which one you get!
2010 – I've gotten both of these. They have reduced the prices AND there are several additional videos that will help you get started.
One other thing that's really cool? The iPad. Now, what does this have to do with video? Well, how about using it as a Teleprompter? That's right, I use it about five times a week with an app called Teleprompt+ – works great for about $10.
OK, so I could keep going because there are MORE things on my list (or they should be on yours if you are serious about becoming a film maker), but it's really starting to get up in price. Matte boxes, follow focus devices, monitors that connect into the HDMI port, it can go on and on. At the end of 2010, and the first part of 2011, I'm doing a little DIY on some of the other things that are interesting to me – follow focus, steady cam, a glide track? Who knows what I might come up with?
The 2010 Christmas Conversation with my wife:

Honey, remember that really long list of attachments I wanted for my camera last Christmas? I know I got some of them and REALLY didn't use them at all during the entire year, but 2011 will be different because now I have some idea about all the things I'll be able to do with my 5D Mark II and this additional gear…honey?
(insert long pause)
Honey, can I get a clapper board for Christmas? I didn't get that last year and REALLY need it! ($37.99)
(insert LONG moment of silence)
Of course you can dear, just make sure you play with it outside.
Final Notes
And, in the interest of full disclosure – OF COURSE I'll make some money if you buy from the links above! How do you think I'm going to buy the rest of the gear I want?
Merry Christmas everyone… Hope you get everything on YOUR list.
-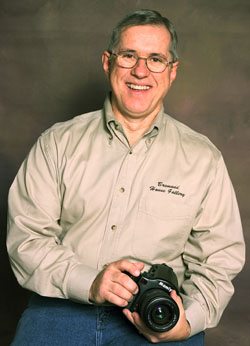 Dave Warner is a professional photographer based in the Southern Adirondacks of upstate New York with over 35 years of experience. He is the producer of the popular LensFlare35 podcast. Dave is also Chief Technology Officer for a publishing company that produces a daily newspaper, along with seven weeklies. Click the links below to find out more about him.
Phone: 315-628-1214
Email: dave@davidwarnerstudio.com
Website: www.davidwarnerstudio.com
Twitter: @lensflare35
Facebook: http://www.facebook.com/pages/LensFlare35-The-Weekly-Show-for-Canon-DSLR-Users/90017369890
Photo Credit: © 2010 David E. Warner
Here's how you can share your tips, techniques and tutorials on CurrentPhotographer.com
-