LensFlare35 Episode 77 – Interview with James Riley & Drew Ganyer from Colony Bay Productions
By
LensFlare 35 is a photography podcast brought to you by Dave Warner. This week, Dave, is speaking with filmmakers James Riley and Drew Ganyer. Both are with Colony Bay Productions, a company dedicated to telling the adventurous, heroic and exceptional story of America in a way that both challenges and inspires the audience. The company is made up of a small group of professional filmmakers, writers, actors and editors who love bringing these stories to the public. The video (below) is the one that we're talking about in the interview, so it's best to watch it first before you listen to the full interview.

If you have a comment, suggestion or a topic of interest that you would like us to explore in an upcoming show – send us a message using our contact form.
To listen to the full podcast interview, click on the player's forward arrow below. You can also play the Podcast in a pop up window, download it OR subscribe to it via iTunes.
Podcast (lensflare35): Play in new window | Download (Duration: 23:13 — 21.3MB)
-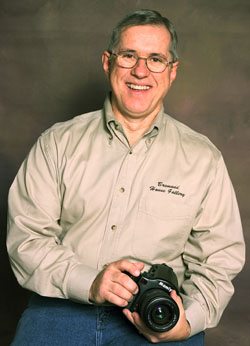 Dave Warner is a professional photographer with over 35 years of experience based in Austin Texas and the Southern Adirondacks of upstate New York. He is the producer of the popular LensFlare35 podcast. Dave is also Chief Technology Officer for a publishing company that produces a daily newspaper, along with seven weeklies. Click the links below to find out more about him.
Phone: 315-628-1214
Email: dave@davidwarnerstudio.com
Website: www.davidwarnerstudio.com
Twitter: @lensflare35
Facebook: http://www.facebook.com/LensFlare35
Photo Credit: © 2010 David E. Warner
Here's how you can share your tips, techniques and tutorials on CurrentPhotographer.com
-