There is more to exposure than just getting the right amount of light into the camera. Every exposure also creates a specific aesthetic. Exposure For Outdoor Photography by Michael Frye is about natural-light photography and the creation of exposures that are not only technically perfect, but aesthetically compelling.This 50-spread PDF eBook, tackles the basics, and goes on to discuss the different ways of accomplishing different exposures to bring about different aesthetics. It covers metering modes, exposure modes, histograms, high-contrast scenes, depth of field, shutter speeds, and exposure blending, and more, and includes 10 case studies, and beautiful photographs, to illustrate. There is a lot of information for photographers of all levels in this eBook and if you've ever wrestled with your exposure, Michael Frye can move you forward.
Special Offer on PDFs
For the next five days only, use the promotional code EXPOSURE4 when you checkout so you can have the PDF version of Exposure For Outdoor Photography for only $4 OR use the code EXPOSURE20 to get 20% off when you buy 5+ PDF eBooks from the Craft & Vision collection. These codes expire at 11:59pm PST February 20, 2012.
–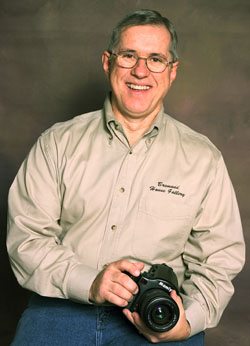 Dave Warner is a professional photographer with over 35 years of experience based in Austin Texas and the Southern Adirondacks of upstate New York. He is the producer of the popular LensFlare35 podcast. Dave is also Chief Technology Officer for a publishing company that produces a daily newspaper, along with seven weeklies. Click the links below to find out more about him.
Phone: 315-628-1214
Email: dave@davidwarnerstudio.com
Website: www.davidwarnerstudio.com
Twitter: @lensflare35
Facebook: http://www.facebook.com/LensFlare35
Photo Credit: © 2010 David E. Warner
Here's how you can share your tips, techniques and tutorials on CurrentPhotographer.com
–
Latest posts by Dave Warner (see all)