Making the Print: Printing Techniques for the Digital Photographer by Martin Bailey is the second eBook in our Masterclass series and it's the perfect primer regarding all things related to fine-art printing. No stone is left unturned as Martin explains in-detail everything you need to know about making beautiful, frustration-free prints. And print-making is definitely one of those areas that doesn't get as much attention as it should.This 65 wide-page eBook covers it all from choosing a printer and papers, to profiling and sharpening, and then he moves on to calibration, fine-tuning, adding borders, basically everything you need to get competent, which is what most of us are looking to accomplish. But he doesn't stop there… Martin also dives head-first into creating your own canvas gallery wraps and printing for an exhibition.
A talented educator, Martin unpacks the workflow and provides the detailed explanations, step-by-step instructions, and screenshots you need to make your next printing project exciting and successful.
Martin Bailey is a Tokyo based art and assignment photographer who is passionate about creating photography that invokes emotions, and helping others to do the same. He has been a guest on LensFlare35 in the past and we're wishing him well with this new endeavor!
Special Offer on PDFs
For the next five days only, use the promotional code PRINT4 when you checkout so you can have the PDF version of Making the Print for only $4 OR use the code PRINT20 to get 20% off when you buy 5+ PDF eBooks from the Craft & Vision collection. These codes expire at 11:59pm PST January 21, 2012.
–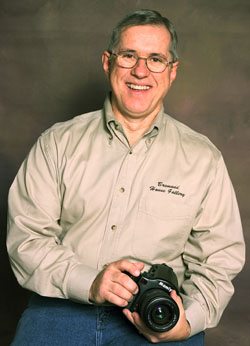 Dave Warner is a professional photographer with over 35 years of experience based in Austin Texas and the Southern Adirondacks of upstate New York. He is the producer of the popular LensFlare35 podcast. Dave is also Chief Technology Officer for a publishing company that produces a daily newspaper, along with seven weeklies. Click the links below to find out more about him.
Phone: 315-628-1214
Email: dave@davidwarnerstudio.com
Website: www.davidwarnerstudio.com
Twitter: @lensflare35
Facebook: http://www.facebook.com/LensFlare35
Photo Credit: © 2010 David E. Warner
Here's how you can share your tips, techniques and tutorials on CurrentPhotographer.com
–
Latest posts by Dave Warner (see all)