OSXcellence – JPEGmini Lite
By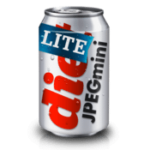 I imagine many of you reading this review take quite a lot of pictures. Some of you will upload your pictures to Flickr or Facebook, but many of you will have your own website. And some of you with some technical nous may prefer to self-host and will be aware of the limitations on storage space web hosts often impose. This means that the number of high quality images you can upload to your website can be severely limited. JPEGmini is a service which is likely to relieve these pains, and now, it comes in a Mac flavour. Or should I say two Mac flavours, Lite and Full; today, I'm looking at the Lite version.
The premise of JPEGmini is pretty simple – to reduce the file size of jpegs. The service has been going a while now, online, and doesn't seem that revolutionary on paper. Only when you look at the results, however, will you see what the fuss is about. In many cases, JPEGmini can reduce the file size of an image by 4 times, yet there are no visible signs of image degradation. A few examples can be seen on JPEGmini's home page. Whilst JPEGmini's website does a fine job, it does require a process of upload, wait for processing, then download – the app version bypasses this hassle, and, as a result, is far more convenient. Today, I'm looking at the Lite version. The difference between Lite and Full is that Lite restricts the number of images you can process to 20 per day. Both versions, however, have the ability to take jpegs up to 17MP in size (a.k.a. MASSIVE).
The process is extremely easy using the app; just a case of choosing the picture you want to shrink. In my first test, I was astounded when, almost instantly, a 5.6mb file was reduced to 1.5mb. As I mentioned before, no degradation in quality was visible – and that's coming from an addicted pixel-peeper. I understand this is possible due to JPEGmini's new compression technology, but it feels wizardly enough to be a product of Hogwarts. I must say that, initially, I was a bit nervous about the fait accompli that JPEGmini Lite presents you with: "JPEGmini will overwrite your original photos replacing them with JPEGmini versions." But having seen the results (and given that we're talking about already compressed images here), I have no problem with this any more.
For anyone who uses online storage space – including those of you who, like me, have battled with WordPress.com's media upload limit – the difference JPEGmini makes is considerable. As I'm writing with photographers in mind, however, I feel this tool is even more essential as an addition to your inventory.
You can use JPEGmini's online service at jpegmini.com, download JPEGmini Lite from the Mac App Store, or purchase the Full version of JPEGmini for £13.99/$19.99.
-


Mark Myerson loves photography, and in particular, hanging around waterfalls! Landscapes and nature have always been his staple, but he relishes any opportunity to take pictures. He also works closely with many local charities, regularly providing photographic coverage of fundraising events.
Mark is also a self-confessed tech-head and OSX lover – Apple is his favourite fruit!
Mark is the owner of Mark Myerson Photography, a Devon-based business that provides a large variety of photographic services to the local community and beyond. Whilst Mark Myerson Photography specialises in event, commercial and pet photography, almost every type of photographic assignment has been covered by the company.
If you have any photography or OSX-related questions, you can contact Mark via the links given below.

Company: Mark Myerson Photography
Email: markmyerson.photo@ymail.com
Website: http://myerson.weebly.com/
Twitter: @Mark_Myerson
Facebook: http://www.fb.com/markmyersonphoto
Photo Credit: © Mark Myerson
Here's how you can share your tips, techniques and tutorials on CurrentPhotographer.com
-