OSXcellence – Shoebox Review
By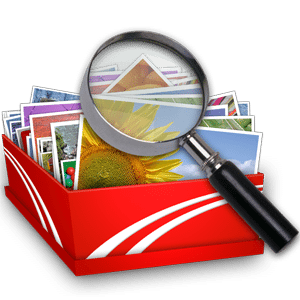 It is a given that most photographers who are Mac users will, at some point, use iPhoto to organise their images and perform simple edits. And whilst iPhoto is a polished product, it is by no means perfect. Shoebox, by KavaSoft, is a simple alternative to iPhoto, but is it realistic as a replacement?
Shoebox isn't stunning to look at, although controls aren't cluttered and the app is very usable as a result. The simple nature of Shoebox also lends itself to quick processing, and indeed, Shoebox doesn't suffer from slowdown.
Shoebox works differently from iPhoto; rather than creating its own library, to which images are imported, Shoebox simply scans folders on your Mac, and locates the images within these folders – thumbnail previews of the images are then displayed within Shoebox's interface. By selecting images, you can add them to a category, give them a rating or change their name, as well as edit or view a plethora of other metadata.
One area in which iPhoto probably outperforms Shoebox is organisation. This is less to do with a lack of organisation features, and more to do with accessibility and ease of use of these features. Generally speaking, however, as an image sorter, Shoebox performs well and due to its minimal operation, it runs very fast. Despite having 4GB of RAM in my Mac, I still find iPhoto slowing-down from time to time, whereas Shoebox always seems to be snappy.
Like iPhoto, Shoebox has a slideshow feature. It isn't as customisable as iPhoto, but as a way of displaying your pictures, it works fine. This is certainly an area where Shoebox can improve in future versions, however.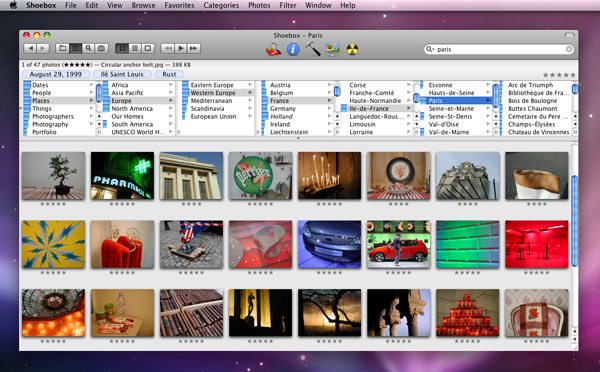 One big area in which Shoebox fails, in comparison to iPhoto, is editing. This is mostly because Shoebox doesn't do it, whereas iPhoto does. I have always liked the basic editing features in iPhoto, which allow a small tweak to exposure, or similar, without the need to open Photoshop (or your editor of choice). If, however, you always edit images with Photoshop anyway, then Shoebox's lack of editing controls will not matter to you.
One final feature to note is "surfing." When you are looking through images within a folder, you can "surf" through them using standard scrolling technique. This is a nice trick to have in the app, although it is a bit too fiddly for me to use as my favoured control method.
I have mixed views on Shoebox; I love how lightweight it is, how it allows you to store images in normal folders, and its blazing speed. On the other hand, I miss the ease of use and editing of iPhoto, not to mention the prettier interface. Shoebox, though, is certainly a rival to iPhoto which some people will prefer, and I recommend you give it a test drive.
You can demo or purchase Shoebox on Kavasoft's website. The Express version ($30) allows you to organise up to 10,000 images, whilst the Pro version ($80) is unlimited.
-


Mark Myerson loves photography, and in particular, hanging around waterfalls! Landscapes and nature have always been his staple, but he relishes any opportunity to take pictures. He also works closely with many local charities, regularly providing photographic coverage of fundraising events.
Mark is also a self-confessed tech-head and OSX lover – Apple is his favourite fruit!
Mark is the owner of Mark Myerson Photography, a Devon-based business that provides a large variety of photographic services to the local community and beyond. Whilst Mark Myerson Photography specialises in event, commercial and pet photography, almost every type of photographic assignment has been covered by the company.
If you have any photography or OSX-related questions, you can contact Mark via the links given below.

Company: Mark Myerson Photography
Email: markmyerson.photo@ymail.com
Website: http://myerson.weebly.com/
Twitter: @Mark_Myerson
Facebook: http://www.fb.com/markmyersonphoto
Photo Credit: © Mark Myerson
Here's how you can share your tips, techniques and tutorials on CurrentPhotographer.com
-