Podcast Network
-
Welcome to the CurrentPhotographer.com
Podcast Network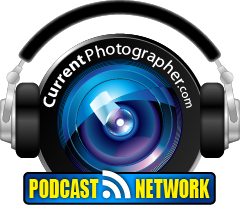 We are very excited to have partnered with some of the best photography podcasts on the internet. Whether it's interviews with some of todays hottest photographers, shooting tips from the working pro's or information to help promote and grow your business, you'll want to check out our new network of shows.
CurrentPhotographer.com was created to share information about the art and business of photography. Together with our Contributors and Guest Bloggers we've been providing some of the best photography resources on the internet for almost 2 years. The next logical step was to bring together the best multimedia (audio and video) resources in photography, produced by some of the top industry experts. That is why the CurrentPhotographer.com Podcast Network was born.
There are so many amazing photography podcasts out there that go overlooked because the photo community is not aware of them. The goal of our network is to introduce you to these podcasts and help you discover new shows that you may be interested in.
So what exactly is a podcast?
pod-cast

noun /ˈpädˌkast/ – A podcast (or non-streamed webcast) is a series of digital media files (either audio or video) that are released episodically and often downloaded through web syndication. The word replaced webcast in common use with the success of the iPod and its role in the rising popularity and innovation of web feeds.

via Wikipedia
Although the term "podcast" is often associated with Apple's iPod, an iPod is not necessary to listen to these shows. We added links to subscribe in iTunes or via RSS for those that want to download the shows to their portable devices, but we've also included a convenient "Play Podcast" button with each show so you can listen right from our website.
The CurrentPhotographer.com Podcast Network is launching with 5 shows and include:
…with more to come in the very near future.
Please click on the links below to learn more about each of our shows and give them a listen. I'm sure you'll find them entertaining and full of useful information.
-
Do you produce a photography related podcast? Would you like to become part of the CurrentPhotographer.com Podcast Network? Please send us a message through our contact form for consideration.