As digital processing techniques go, HDR is a relative new boy – how many of us were using Photomatix 5 or 6 years ago? Now, however, it has spread contagiously amongst photographers, at its best when being harnessed to produce beautiful images, but often being used to produce eye-stingingly garish results. Love it or hate it, though, HDR is here to stay and as a result, there are now numerous apps vying for your tone-mapping attention. One such app is HDRAW, but with its idea of single image HDR creation using a RAW file, is it a realistic contender for the low-contrast crown?
As stated above, the most noticeable feature of HDRAW is its single-image approach to creating an HDR image. This method has both positives and negatives; only having to compute one image file at a time means HDRAW can operate smoothly and quickly – an effect accentuated by HDRAW's pleasant interface. The downside of HDR using only one image is that you are stretching your picture to its limit, and with this in mind, you won't want to be using HDRAW for big prints or for stock libraries. I must admit, however, that I was suprised by how much detail HDRAW claimed back from the darkest shadows and lightest highlights.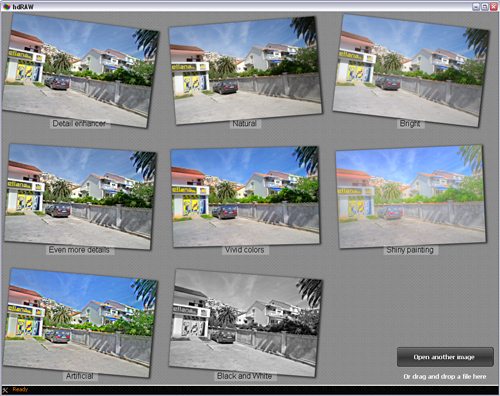 HDRAW has three methods of achieving high dynamic range, each a different technology, and each producing its own variation. The first is Almalence, which uses the HDR processing method from the company of the same name. Images processed via this method have a smooth colour transition, but look somewhat painterly and unnatural. The second processing option is Reinhard, named after computer brainbox Erik Reinhard, who was one of the original developers of the HDR process. His pet hate is overdone HDR – a subject he speaks and writes about regularly – so as you might imagine, this option in HDRAW is subtle, and favours realism over drawing out the maximum detail from your RAW file. Finally, there is the Fattal option, again named after its inventor, Raanan Fattal, who is another computer-science wizard, and whose paper-writing credentials include "
Edge-preserving decompositions for multi-scale tone and detail manipulation
" and "
Image upsampling via texture hallucination
". It is not surprising, given this light manipulation background, that Fattal's method is more of an exercise in retrieving ultimate detail from a RAW file, rather than making it look good.