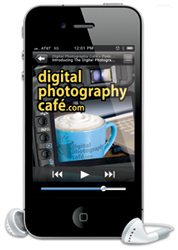 This week Trevor Current and Joseph Cristina talk about a new survey on how people are connecting with local businesses and photographing the holiday festivities.
Grab a latte, pull up a chair and join us as we chat about the art and business of photography.
Links:
Below is the behind-the-scenes video we recorded during the live streaming of the show. Hope you enjoy it 🙂
Sponsor: Focus Pyramid – the autofocus lens calibration tool for your DSLR camera.
If you want to make the absolute sharpest images possible then you need to take control over your DSLR's focusing system. Focus Pyramid makes lens calibration quick, easy and cost effective at an amazing introductory price of only $9.95 US. So head over to FocusPyramid.com and pick up yours today.
–
Connect with the Hosts:
Trevor Current
Website: CurrentPhotographer.com
Twitter: @TrevorCurrent
Facebook: facebook.com/CurrentPhotographer
Google+: GPlusTC.com
Joseph Cristina
Website: alluremm.com
Twitter: @JosephCristina
Facebook: facebook.com/alluremm
Google+: GPlusJC.com
We hope you enjoy the show and would appreciate any feedback you may have. You can submit your comments and questions through the Contact form on the Digital Photography Café website.


Subscribe to the Digital Photography Café podcast in iTunes or from our RSS feed.
You can listen to this episode by clicking the play button below.