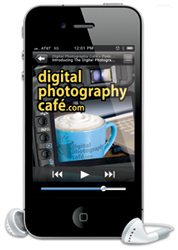 This week Trevor Current and Joseph Cristina talk about the SpyderGallery iPad app and we chat with Rosh Sillars from New Media Photographer.
Grab a latte, pull up a chair and join us as we chat about the art and business of photography.
Links:
Audacity
GarageBand
Adobe Soundbooth (Development has ended on this product)
Adobe Audition
Pro Tools
Digital Photography Café Podcast Featured in iTunes New and Noteworthy
Apple World Wide Developers Conference (WWDC)
Datacolor SpyderGallery iPad App
WPPI NYC
Rosh Sillars
New Media Photographer
The Driven Business
ASMP on TwitPic Terms of Service
Connect with the Hosts:
Trevor Current
Website: CurrentPhotographer.com
Twitter: @TrevorCurrent
Facebook: facebook.com/CurrentPhotographer
Joseph Cristina
Website: alluremm.com
Twitter: @JosephCristina
Facebook: facebook.com/alluremm
We hope you enjoy the show and would appreciate any feedback you may have. You can submit your comments and questions through the Contact form on the Digital Photography Café website.


Subscribe to the Digital Photography Café podcast in iTunes or from our RSS feed.
You can listen to this episode by clicking the play button below.