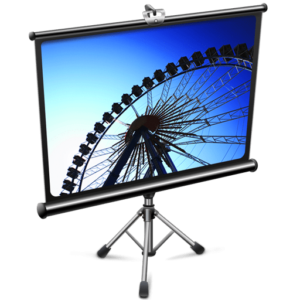 Photos look great on paper, but if you need to display your images on-screen, or using a projector, you're going to need an app that will showcase your photos beautifully. In a previous article, I reviewed ePic (a basic slideshow app for showing off pictures) and found that whilst it was fine for creating a slideshow, to show to your friends and family, on your Mac, it wasn't great for heavyweight photographic slideshows, not least because it lacks an export option. Boinx, the well-established software company most famous for animation app iStopMotion, has its own entrant into the slideshow market – PhotoPresenter 4 – but will this app be the answer to your slideshow requirements?
With PhotoPresenter 4, Boinx have gone for a well-balanced mix of the simple, yet powerful. Creating a great looking slideshow in this app is very easy if you want to simplify things; you can choose a folder or album in iPhoto, Aperture, Photo Booth or Flickr (or anywhere else on your Mac), and then choose a theme, at which point, you're ready to play.
PhotoPresenter 4 has hidden depths, however. All of the slideshow styles or "themes" are customisable, with different frames and backgrounds available, and the ability to add captions and titles. You can also add music to any slideshow, and change the speed at which the images are played, including the option of syncing to the length of a music track.
Despite the high quality of the themes included in PhotoPresenter, some aren't particularly usable for anything other than a screensaver. The zooming "Ken Burns" theme, for example, is almost unusable with certain image aspect ratios, whilst the "Wall" theme provides only a partial view of any picture at any time. Having said this, themes such as "Book" (a virtual photo album) and "Carousel" provide a classy and beautiful background to your images. Whether the handful of really good themes is enough to get you to purchase PhotoPresenter 4 is up to each individual's judgement.