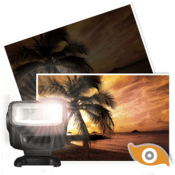 Many of the apps I review in this column are stacked full of features  and, seemingly, developers seem to think that more really is more. ACDSee Photo Flash is as far from these do-it-all apps as it's possible to be, but will the traditional adage of "less is more" ring true for this minimalist app?
The one-and-only function of Photo Flash is image brightening, the claim being that this app is an in-Mac flashgun. My initial thought was, "Why can't I just use the exposure slider in Aperture/iPhoto?" ACDSee claim, however, that their special "Lighting and Contrast Enhancement (LCE)" technology is a superior option. This function is adjustable, using Flash Photo's only control – a percentage slider.
After studying images outputted from Photo Flash, I would say that the exposure adjustment which this app provides is tempered by highlight reduction and shadow lifting. The images, as a result, have a slight HDR feel, but nothing too garish, or even noticeable. I have to admit, though, that the effect is quite similar to the illumination that flash gives.