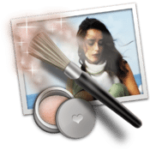 As keen photographers, when we present our images on paper, we will often spend a lot of time (and money) on making the presentation of our images beautiful. The same care is often not taken when we publish images online. Perhaps this is as a result of the unlimited nature of the internet, as well as the speed at which it operates. Whatever the reason, perhaps we should start taking a little more care, not least because more and more, we view images on-screen – a trend which isn't likely to reverse any time soon.
Acqualia, the makers of the popular Mac spreadsheet/calculator hybrid Soulver, have created their own app for streamlining the process of digital image presentation – Picturesque. But are you better off sticking with Photoshop?
The idea of Picturesque is to make the process of creating reflections, shadows and rounded corners straight-forward. Drop your image into the app, and almost instantly, you're ready to edit within Picturesque's smooth, clean interface. There are, essentially, 5 different options: perspective, reflection, shadow, corners and stroke.
The perspective tool allows you to position your image at a 3D angle, as if rotating a piece of paper in space. The usefulness of this feature? Well its use isn't exactly obvious……shall we move on?
The reflection tool allows you to apply an iTunes coverflow-style reflection below your image, and I can imagine this being quite useful for creating a certain look on websites, although generally speaking, this isn't of great use to photographers. If you do want a reflection, however, Picturesque provides you with customisation options (length, opacity, offset) whilst also retaining rapid use, and the finished product is very much one of quality.