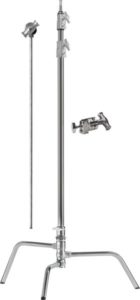 April 20, 2012 – PRESS SUMMARY – Kupo, a leading global brand of professional grip equipment and lighting accessories for the still photo and video industries, announced a major expansion – 88 additions – to its line of professional grip equipment available now in the United States. These products, including light stands, grip equipment and accessories.
A few of the Kupo products include:
Light Stands
Junior Roller Stand – This stand is a great lightweight alternative to a full sized roller for mobile lighting in the studio or location.
Master C Stand Kits
Master C Stands, or Century Stands, are now available as kits – bundling a C Stand, 40" Grip Arm and 2-1/2" Grip Head to offer further savings and convenience.
Master C Stand Base
The exclusive Kupo Turtle Base with patented spring locking ring is available as an accessory so users can utilize their existing riser sections and gain the ease and speed advantage that this base provides. The Kupo Master C Stand with Turtle Base features a unique innovation in the world of C Stands enabling photographers or filmmakers of any skill level to open and collapse the legs in under a second.