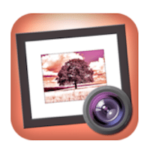 White trees and black skies – enter the world of warped color, known as infra-red photography. In recent years, the rise of affordable DSLRs has enabled photographers to put "last year's model" aside for conversion to infra-red, and, as a result, infra-red has seen somewhat of a renaissance, particularly with landscape photographers looking for a way to make their pictures different. As with other forms of in-camera stylistics, infra-red is a look which a number of app publishers have tried to copy, but most have found that a realistic infra-red look is almost impossible to achieve. Can NIR Color, by JixiPix, provide a better experience?
The first thing I must say before looking at NIR in any depth is this – IR imaging is not truly replicable with a computer. Software can guess how colors would have appeared if taken in infra-red, but a true reflection of a scene as pictured in infra-red is impossible.
With this in mind, it is not surprising that NIR's color-shifting filters don't make an image look like it was taken in IR. But then again, JixiPix haven't really attempted to make an IR emulator. The clue is in the name – it is called NIR Color, not IR Color.