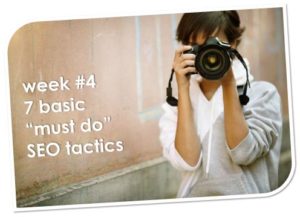 Welcome to week four of the Friday Business Challenge bought to you by Current Photographer and Today is Different. Not sure what The Challenge is about? Click here to find out: Welcome to the Friday Business Challenge.
So how did you go with last week's challenge? Did you do it? Don't worry if you haven't yet, just go back and do it any time before the challenge ends.
We want to give a big shout out to Toni Aull for participating in the Friday Business Challenge for Week 3. Be sure to check out Toni's Flickr stream to view her work and to learn more about her.
So on to week number four.
7 Basic "Must Do" SEO Tactics for Photographers

SEO is a large and complex topic. You can pay someone to do it for you or you can immerse yourself in all of the technical information trying to figure out how to optimize your site.
The truth is you may need to adopt one or the other of the options above. But before you do, try these tactics and make some small adjustments, and most likely you will see improved rankings quite rapidly.