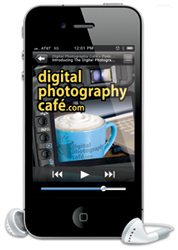 This week Trevor Current and Joseph Cristina talk about the iPhone 4s for photographers, the passing of a visionary, Joe's weekly Google+ tip and the winner of our photography book giveaway.
Grab a latte, pull up a chair and join us as we chat about the art and business of photography.
–
Links:
Congratulations to Ollie from San Diego, CA. He is the winner of our
Focal Press photography book giveaway. Be sure to check out his work on his website ohhphotos.blogspot.com and give him a follow on
Twitter @olasis.
The passing of Steve Jobs
Hong Kong student's Apple tribute is an Internet hit
Connect with the Hosts:
Trevor Current
Website: CurrentPhotographer.com
Twitter: @TrevorCurrent
Facebook: facebook.com/CurrentPhotographer
Joseph Cristina
Website: alluremm.com
Twitter: @JosephCristina
Facebook: facebook.com/alluremm
We hope you enjoy the show and would appreciate any feedback you may have. You can submit your comments and questions through the Contact form on the Digital Photography Café website.


Subscribe to the Digital Photography Café podcast in iTunes or from our RSS feed.
You can listen to this episode by clicking the play button below.