Tying The Knot: Harry Potter And The Virtuous Circle Of Weddings
By
Harry Potter's annoying isn't he? One minute he's a wimpy kid who lives in a closet, then a fancy wand and a few games of Quidditch later and he's the most powerful boy wizard ever! How did he get that gig?! And every year amazing things just happen; like epic battles with He Who Sounds Like Vol-Au-Vent!
If only it was just as easy to become a professional wedding photographer, right?! Why can't you equip yourself with a decent camera, do a few shoots and then have weddings just magically come looking for you?
Well the good news is that it can and does happen. Because it happened to me. So allow me to tell you the story of my first wedding and a certain someone called Harry!
I was in the classic Catch 22 situation: aching to shoot a wedding but lacking any previous experience and with no idea when I was going to get my first taste! However, I knew when the chance came I would be ready. In a previous post I mentioned how I spent a couple of years prior to this point learning and practising four main genres of photography, knowing that they would prepare me to be a very competent second shooter. Well now I wanted to put my theory to the test!
My lucky break came through my day job. I work in a large advertising agency which is populated with young, cool, creative types and I had established myself as the company's most passionate amateur photographer (read: I talked about my photography at every opportunity!), so it was really just a matter of time until an opportunity came my way. And it came in the form of my female co-worker and fellow camera enthusiast Harry. Harry was a couple of months away from marrying Sam at an outdoor ceremony up at Freshwater, one of Sydney's pretty northern beaches. She had been a fan of my work for some time and invited me along as a second shooter so I could gain some invaluable experience and kickstart my wedding portfolio.
I was ecstatic at this amazing opportunity and excitedly spent the next few weeks brushing up on my techniques and reading dozens of great posts about shooting weddings and second shooting. By the time the big day came round I was pretty much expecting to shoot a CF card full of award winners!
Alas, my debut didn't start well. It had been raining for most of the day and so the traffic heading north was thicker and slower than usual. Plus it was Friday afternoon and we know the trauma that brings! Long story short and I turned up just as the ceremony was ending. Yeah, don't try that at home kids!
Fortunately not being the paid pro meant there was no harm done, but that left the reception as my only opportunity to salvage something for my barren portfolio.
The venue for the reception was Pilu at Freshwater, a small but perfectly formed award winning restaurant, and it was here that I came into my own. Having shot at events and nightclubs I was used to crowded, confined spaces and knew how to work with low light and strobes. I relaxed and shot through the night, capturing plenty of dancing, laughing and emotion.
Over the next few days I selected and edited my highlight shots then sent them on to Harry so she would hopefully add them to her collection of professional images. When she returned to work following her honeymoon she gave me really good feedback which I was delighted and relieved to hear! But on top of that she also announced that they had selected one of my shots to print out and frame for their living room wall!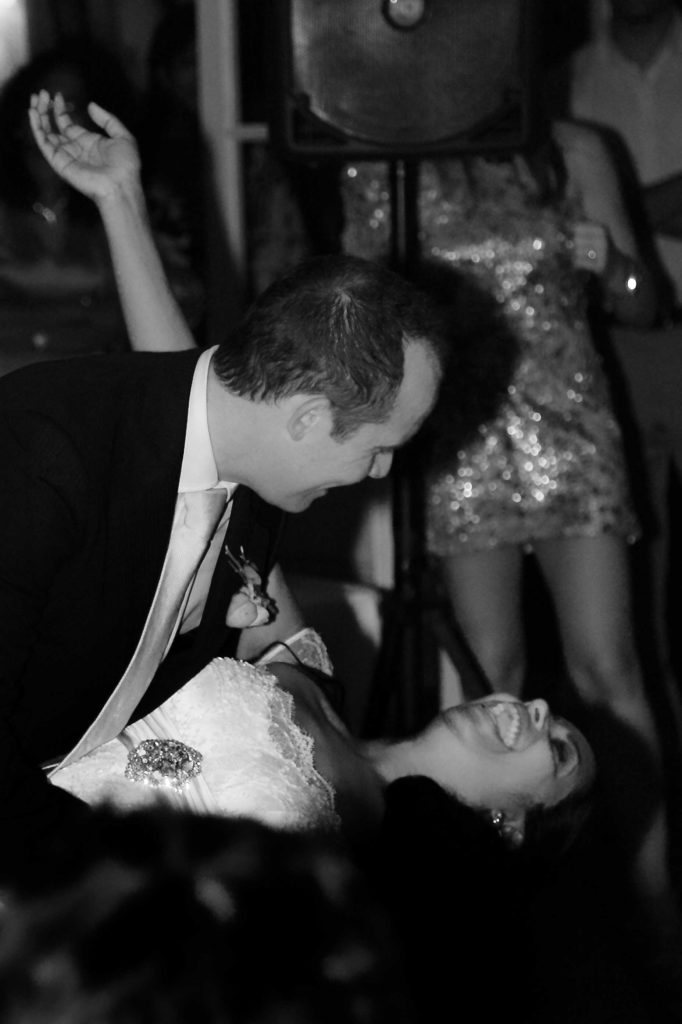 That really made my day and gave me the confidence to start looking for more wedding work.
But the story of my first wedding doesn't end there. About a year later an owl flew through my window I received an email from Elizabeth, one of Harry and Sam's close friends who I had been seated next to at the reception meal. She mentioned a photo I had taken that night of her and boyfriend Dougal, and that they too had decided to print and frame it.
Well Dougal was now her fiance and I was being invited to be their wedding photographer! I of course accepted and had an amazing time shooting their garden party wedding very recently!
And just when you thought happy endings couldn't get any happier, I just shot a maternity session with a very heavily pregnant Harry and will have a newborn shoot around the time you're reading this!
So the virtuous circle does appear to work. Practice, practice, practice, then push and sell yourself and that first opportunity will come knocking. Then shoot well and soon enough there's a good chance you'll get a very pleasant surprise call from one of the guests. I'll take that over a battle with Vol-Au-Vent any day!
-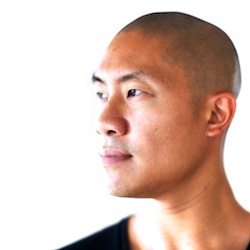 I'm a born and bred Londoner who decided to give up the rat race, move halfway round the world to Australia and live by beautiful Bondi Beach.
But that's not all. I also bought loads of cool camera gear to play with then realised I could use it to make a living, and now I run a successful wedding and baby photography business.
My background in media and marketing has been invaluable in quickly establishing myself, particularly through social networking, and I'm keen to help others do the same. I also strongly believe in giving back to the community, so look out for my blog posts where I'll be sharing thoughts, insights, and tips about life as an emerging wedding photographer.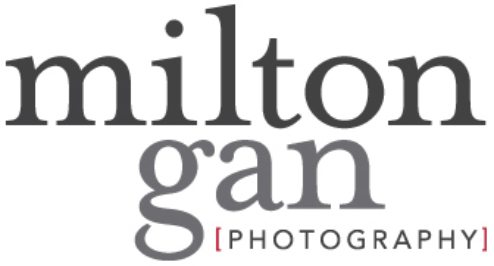 Company: Milton Gan Photography
Phone: +61 424 531368
Email: milton.gan@me.com
Website: http://www.miltongan.com
Twitter: @miltonganphoto
Facebook: http://facebook.com/milton.gan.photography

Photo Credit: © 2011 Milton Gan
Here's how you can share your tips, techniques and tutorials on CurrentPhotographer.com
-