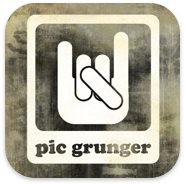 There is something cool about old photos. Even scuffed, streaked, faded with age, or with bleach spilled on them, they are just cool. That is the beauty of Pic Grunger. Sold by Stephen Spring on iTunes, this easy-to-use app allows you to select a photo from your camera roll or one that you have placed on your iPhone. Once you select the photo, it shows you how each effect will look with your photo. While it would be easy to show generic photos of each effect, Pic Grunger goes the extra mile by showing previews of your photo with each effect applied. This gives you a great representation of how your final image will look. You simply click on the thumbnail you like and are taken to a preview screen. From there you can further modify the strength and style of the effect and add a border before you save it to your phone. It could not be any cooler or easier.
But why take it from me? Try the Pic Grunger Lite version for free and check out the four grunge effects and three color styles. If you spring for the 99-cent full version you will receive 11 grunge effects, six color styles, and the option for high or low resolution. Either way, you will create some cool effects.

All the best…Mike
*The Current Photographer website contains links to our affiliate partners. Purchasing products and services through these links helps support our efforts to bring you the quality information you love and there's no additional cost to you.
A college administrator by profession, Mike Kennamer enjoys the opportunity to take photos and improve his skills by shooting events at work, church, and for friends. He enjoys landscape photography, portraiture and is starting to dabble in HDR. His current photography project involves learning to control flash manually. "My goal", according to Kennamer, "is to be the best photographer I can be."
Kennamer is also the President of Kennamer Media Group, Inc., a provider of traditional and online media, specializing in the healthcare industry. On CurrentPhotographer.com he writes about iPhone and iPad applications for photographers.