If you've been visiting our website, Facebook Page or following me on Twitter for any length of time you know I'm a firm believer in you have to give to receive. Helping promote other photographers and providing tools and resources to help them succeed is what we're all about. In return you've helped us build a strong community of photographers who share their thoughts and ideas to help us all grow.
To continue with our new features for 2011 and to help out with photographer promotion, we've added CommentLuv to CurrentPhotographer.com. So you may be asking what is CommentLuv? CommentLuv is a great little plugin that allows site commenters to automatically attach a link to their latest blog post at the bottom of their comment.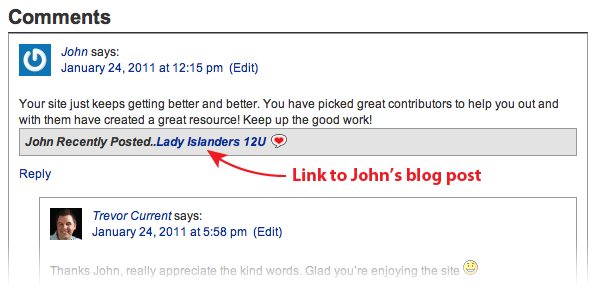 In the example above, John left a very nice comment for us and at the bottom highlighted in the gray rectangle is a link to his latest blog post. This is a great opportunity to share your blog posts with other CurrentPhotographer.com visitors and squeeze a little link juice at the same time.
Most commenting systems allow commenters to add a link to their website in the comment form. You enter your name, email address and website url and once the comment goes live, your name becomes a clickable link and directs viewers to your website. This has always been a great way to gain exposure and traffic to your site without the shameless self-promotion of including a link in the comment itself. CommentLuv gives us the ability to add an extra link to the commenter's website that's done in a tasteful non-spammy way.
So how can you include a CommentLuv link? It's simple, first you need to signup for a free membership at ComLuv.com/member. Fill out the information completely and add the RSS feed to your blog. Then return to CurrentPhotographer.com to leave your comment.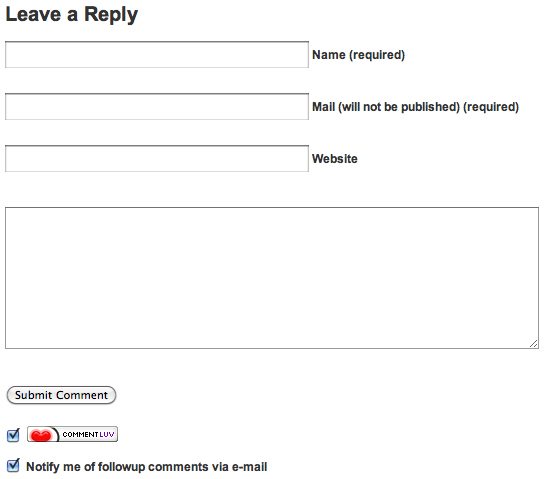 Fill in your name, email address and website url. Add your comment and check the box at the bottom next to the CommentLuv logo. This will enable the CommentLuv plugin to display your most recent blog posts and you can choose which one you want displayed.
I also suggest you check the box next to Notify me of followup comments via e-mail. Then click the Submit Comment button.
That's it! Really easy and a great way to get some extra promotion and traffic to your site.
–
Note: As a suggestion, when you write your blog post headlines, make them descriptive to grab the viewers attention. Remember the headline is the only thing that shows here, it the viewer isn't intrigued enough to click on it they will pass it right by.
Also, register the email you use to comment on websites at Gravatar.com. You can upload your avatar (image you use to represent yourself online) and it will automatically be loaded into the comment adding to your recognition.
–
Update: My friend Scott Wyden wrote a post about CommentLuv you should check out. Brings up some additional advantages and has a short demo video on how it works.
–
*The Current Photographer website contains links to our affiliate partners. Purchasing products and services through these links helps support our efforts to bring you the quality information you love and there's no additional cost to you.
Founder of Current Photographer, co-host of The Digital Photography Cafe Show, Designer, Photographer, and overall tech geek.