Mobile devices such as smartphones and tablets are everywhere. We all have them, and we use them everyday (all day). Your clients and prospects are using these devices as well. Brides are sitting on the couch watching TV and searching for their florist, reception hall, and yes, even their wedding photographer.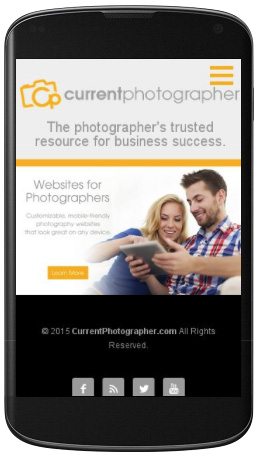 This is not news, but if you have an old Flash powered website you already know it won't display or function properly on iOS devices, and performance is sketchy at best on Android and Windows Phone devices. So if those Brides are searching for a wedding photographer and your site doesn't display, they will move on to your competitor who has a mobile-friendly website.
Google and the other search engines see the value in mobile-friendly websites as well. In fact, Google has been pushing for the use of "responsive design" for quite some time now. They have even stated that they prefer a responsive website as opposed to a separate mobile website, as this helps them assign authority to one site only rather than having to choose between the two.
Google will be expanding the use of mobile-friendliness as a ranking signal. This change will affect mobile searches in all languages worldwide and will have a significant impact on search results.
Basically what they are saying, if your site is mobile-friendly you will get higher organic search ranking than if your site is not mobile-friendly.
So what should you do? First head over to this post on Google Webmaster Central. Give it a read and then test your current site to see if it is mobile-friendly. If it is, awesome, you're all set! If not, you should really think about updating your website to a more modern responsive design.
If you need help with a new website for your photography business, be sure to check out our Websites for Photographers service. Our awesome mobile-friendly designs will make your business look great and help you get found in the search engines.
*The Current Photographer website contains links to our affiliate partners. Purchasing products and services through these links helps support our efforts to bring you the quality information you love and there's no additional cost to you.