A Deeper Frame – new eBook from David duChemin
By
David duChemin's first eBook in over 6 months, A Deeper Frame, is an introduction to the discussion about re-introducing the illusion, or perception, of depth that is removed when the camera flattens the three-dimensional world into two. This insightful and inspirational eBook will help you understand principles that artists have understood for centuries, but that seldom get discussed in popular photography with more than a passing mention.
A Deeper Frame outlines seven ways that we can create more engaging images through the re-creation of a sense of depth in the flattened image to create photographs that feel immersive and invite a reader of that photograph to not merely look at the photograph but into or through the photograph.
A Deeper Frame is available now as a downloadable PDF for just $5USD.
Special Offer on PDFs
For the first five days only, if you use the promotional code DEEP4 when you checkout, you can have the PDF version of A Deeper Frame for only $4 OR use the code DEEP20 to get 20% off when you buy 5 or more PDF ebooks from the Craft & Vision collection. So, if you'd like to purchase ANY of these eBooks, please click here! These codes expire at 11:59pm PST July 2, 2011.
The DEEPEST Discount Ever!
For the next five days only you can have twelve ebooks for just $40 – that's 34% off (A.K.A. 4 ebooks for free)! Load-up your shopping cart with 12+ ebooks and then use the promotional code DEEPER12 when you checkout. So, if you'd like to purchase ANY of these eBooks, please click here! This code expires at 11:59pm PST July 2, 2011.
-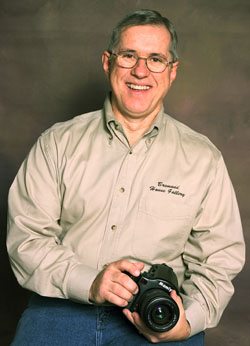 Dave Warner is a professional photographer with over 35 years of experience based in Austin Texas and the Southern Adirondacks of upstate New York. He is the producer of the popular LensFlare35 podcast. Dave is also Chief Technology Officer for a publishing company that produces a daily newspaper, along with seven weeklies. Click the links below to find out more about him.
Phone: 315-628-1214
Email: dave@davidwarnerstudio.com
Website: www.davidwarnerstudio.com
Twitter: @lensflare35
Facebook: http://www.facebook.com/LensFlare35
Photo Credit: © 2010 David E. Warner
Here's how you can share your tips, techniques and tutorials on CurrentPhotographer.com
-