Show of hands…How many photographers are using an iPad to show your photos to clients? If so, what app are you using to assure that your clients see your photos in their best light? I recently had the opportunity to review the Mediapad Pro iPad app.
This customizable app is more than just a medium through which you can view photos; it is a fully functional portfolio in which you display any combination of photos, videos, website, and audio files. And the app is fully customizable so that you can add your logo and information. In just a few minutes, I was able to quickly customize the background and banner.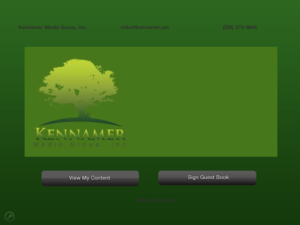 Once that was done I added photos. As you can see from the screen shot, it displays photos beautifully. There are a number of options regarding how to display the photos, and you may set transitions and timing as you see fit.
After using the application a while I found that it does a great job displaying my photos. It is easy to operate and provides an attractive display so that you may easily hand your iPad to a client and let them enjoy the photos.
Features of this app include unlimited file upload, batch uploading, fully customizable interface, slideshow options with transitions and timing, and a built-in tutorial. The guest registry may be
downloaded to an Excel file or a PDF document.