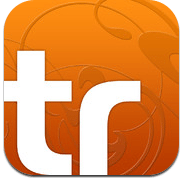 I love looking at photos. Places, people, still life, abstract…I enjoy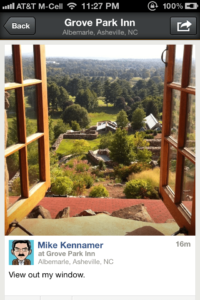 seeing how others see  the world through their camera lens. Perhaps that's why I enjoy Instagram so much. Where else can you discover the world from the comfort of your own home? That's why I also like Trover.
With Trover, you can discover new places everyday, and post your favorite photos from the places you have been. I am just discovering this great app, but have had a good time seeing new places and recognizing photos from places that I have been.
When you post a photo, or a discovery as they call it, you may do so either by taking it from your camera or choosing from your photo library. For instance, the photo at right is one that I took out my window at the Grove Park Inn in Asheville, NC. I was able to select the location from a list. Had my location not been listed, I could have added my own. You may also add details, tips or tags to help others enjoy your discovery. You are then taken to a screen where you may post your discovery to Twitter, Facebook, or Tumblr. Once you do that, the photo is posted on Trover for others to see.
The main menu includes the following items: Home, Your Feed, Post a Discovery, Notifications, and Invites & Settings. At the home button, you will see the Newsfeed, Friend's Discoveries, Nearby Discoveries, What's Hot, What's New, Featured Discoveries, Featured Trovers, Featured Lists, Places, and Search. There is so much to discover in this app that you will find so many new places that you will want to visit. Read More→