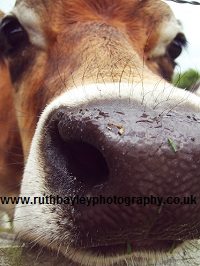 Well it's been a funny old month, it's been a mixture of different things, and just in case you haven't noticed this column has become monthly now, just to give me more time to concentrate on the business.
It's had a lot of variations in it this month.  It started with my boyfriend and I going to a beer festival one Sunday afternoon to relax and taste some beers and it was an afternoon which started an interesting chain of events.
My boyfriend is absolutely fantastic at selling my business and takes every opportunity to tell people about what I do and how I can help them, he was doing this at the beer festival with a couple of the barman and in doing that, we discovered a kindred spirit there in someone who needed a bit of extra support and understanding.
My boyfriend handed out a couple of business cards and we thought no more of it and then a few days later I received a phone call from journalist at a local BBC Radio station, to say that he'd discovered my business and wanted to have a chat to find out more.  During the phone call I established that he had discovered my business through the beer festival. At first I thought it was going to be because of the business cards that my boyfriend had handed out but it turns out that social media won the day.
Following a tweet that I sent on Twitter about us having been to the beer festival at my local town, the journalist, who has all the filters set for local towns, saw the tweet come up and followed the link to my website.  Curiosity got the better of him and he wanted to know more about the business and what I do.  After a chat he invited me to go in for an interview on their mid-morning show.
The day prior to the interview was World Mental Health Day and to celebrate that day, a day which I didn't think I could pass by without marking it in some way given my business, I went to a workshop day given by Shropshire Caregivers for carers and non-carers.
I went along to find out more about what carers go through and what support they need as I intend to work with carers in the near future.  That was a fantastic eye opener for me as to what emotions carers go through; the way they are pulled between looking after their loved ones and the need to stay sane by meeting up with friends for a coffee.  Anger was key too and the cycle of anger that they go through, though I digress.
The next day I went to do the interview at the BBC radio station.  I had made notes and I knew exactly what I wanted to say and which courses I wanted to promote; however for those of you who don't know, the BBC is the UK's national broadcaster it's a non-commercial broadcaster, which means they are very protective about what they can say in the form of advertising and they are regulated by strict guidelines of what they can and can't promote.
So did I get to promote my business fully as I would have liked?  No, they wouldn't let me push specific courses I did however get to speak very deeply about how I had become ill and how I helped myself to recover, probably more deeply than I have done for some time as it stayed with me a bit after the interview.
When I came away from the interview I was pleased that although I wasn't able to promote my courses, people got to know me a bit better.  We spoke about things that I hope helped me to connect with people who may be in similar situations.  I was able to give out useful techniques which people can do easily and quickly to help them overcome depression, anxiety and panic attacks.  So I stopped grumbling about not being able to promote the business as I may have wished and gave thanks that someone found me via Twitter; social media works!
*The Current Photographer website contains links to our affiliate partners. Purchasing products and services through these links helps support our efforts to bring you the quality information you love and there's no additional cost to you.
Living in the beautiful rural county of Yorkshire it was perhaps natural for Ruth to have an affinity with the countryside and its wildlife. Creativity is Ruth's driving force finding an outlet in television & radio she worked for many years as producer for BBC & ITV.
However a love of photography and for being surrounded by nature called her to go back to her photography training and bring pleasure and joy to people through her connection with our planet.
Staying in the moment when taking her images allows her to experience the natural magnificence unfolding before her eyes. It is this moment of mediation, of gratitude, that she evocatively conveys through her images.