Show of hands…How many of you, when you got your iPhone, immediately thought, "I need a tripod for that!" Okay probably not. Me either. But I am a tripod person. My wife rolls her eyes when the first item that goes into my suitcase for every trip is a tripod. I like to do HDR and long exposure shots with my DLSR, so a tripod is standard equipment for my DSLR. But for my phone?
So when the good folks at YOUBIQ asked if I would like to try a Gymbl, I must admit that I was skeptical. Would I really use this thing or is it one of those accessories that would take up space? So it sat on my desk for a few weeks. When I went to Asheville North Carolina on business in August I made it a point to take Gymbl with me.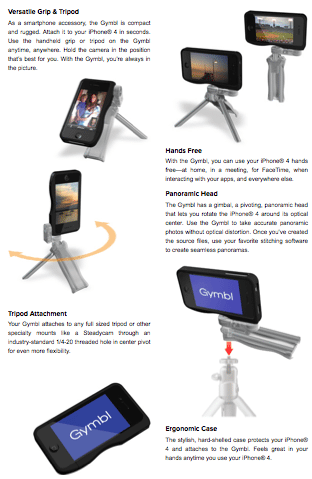 I first replaced my InCase cover with the one that comes with Gymbl. I must say that I am not usually a fan of slider cases–those in which your phone slides into. The unique feature of the Gymbl case is that one the right top corner there is a slot that connects the case to the Gymbl device. Other than that, it looks like a normal case. It is made of hard plastic and fits my had very well. Again, I was skeptical of a slider case at first, but soon got used to it. Since then, I have really become fond of the case. In fact, I have not removed the case since I first put it on. I like it that much. In fact, it's the best case I have ever used with my iPhone (and I've had a few).
Now to the Gymbl. When you pull it out of the box the first thing you notice is the quality of construction and its components. It is made of clear plastic and brushed aluminum. A quick look at the parts lets you know quickly that they are precision machined. No angle is cut by accident. It is clear that the device has been painstakingly designed. It is lightweight and the grip is comfortable. But what can you do with it?
I'm not a videographer, so there is likely a great deal that a videographer can do with this device. If you are a videographer, you might want to check out the YOUBIQ website for more applications.
As a photographer, however, I have found a number of applications for the Gymbl. The main way I use it is for a tripod for when I want to use my phone but don't want to hold it. For instance, it is great for when I am using FaceTime since I can set it on the arm of the sofa, point it toward my wife and me, and talk to our son who is away at college. As a side note, we were doing that one night and it was a little dark so I pointed my directional reading lamp up and bounced the light off the ceiling, resulting in a soft, even, overhead light that illuminated Trisha and me. Everyone was impressed at the quality of light when I did it but rolled their eyes when I explained why I did it. (I get no respect.)
The Gymbl is also great if you do video blogging or if you need a stable platform for your photography. I use an app called Slow Shutter that works great with the Gymbl. The device allows you to position the phone in a number of ways, all of which seem stable.
You can also use the Gymbl as a grip to handhold your phone to shoot video or still pictures. That works well also, especially when you want to pan from side to side or up and down. The panning action is smooth, thanks to the precision machined parts and quality connections. About two months into its use I did experience the loosening of the screw that holds the part that connects the phone to the device. It was an easy fix to tighten it again, but that is something you would want to keep a watch on.
The Gymbl may also be mounted on a standard tripod through a standard screw adapter. This frees you to do a number of other things with your iPhone camera.
So do you really need a tripod for your iPhone? That's a great question. And if you are only thinking of the standard uses for a tripod, it might not be worth your while. However, the Gymbl might be an accessory for you if you:
Have difficulty holding your iPhone camera steady enough to get good shots.
Use the video camera on your phone a lot and want to be able to pan smoothly
Produce a video blog
Would like to use FaceTime hands-free
Like long exposure shots taken with apps like Slow Shutter (previously reviewed here)
So would I have plunked down $69 for Gymbl without having tried it first? Probably not. But having used it for a couple of months I can let you know that it is a valuable and useful tool. With a number of cases selling for $35 and more, I can let you know that the case itself is worth at least $40. So it all comes down to whether you ever have a need for a Gymbl. If you are like me, there is a good chance that you do.
Gymbl may be purchased from Amazon.com, eBay, or direct from YOUBIQ for $69 for the standard version and $99 for the Gymbl Pro, which in the interest of full disclosure, I should note that YOUBIQ provided me with a Gymbl at no cost. I told them that I only review what I actually use and would only submit the review for publication if I find the product useful. If not, I would give them honest feedback, but would not submit it for publication.
So there it is. If you have a purpose for an accessory like the Gymbl, you may want to check it out.
All the best…Mike
Photos compliments of YOUBIQ
*The Current Photographer website contains links to our affiliate partners. Purchasing products and services through these links helps support our efforts to bring you the quality information you love and there's no additional cost to you.
A college administrator by profession, Mike Kennamer enjoys the opportunity to take photos and improve his skills by shooting events at work, church, and for friends. He enjoys landscape photography, portraiture and is starting to dabble in HDR. His current photography project involves learning to control flash manually. "My goal", according to Kennamer, "is to be the best photographer I can be."
Kennamer is also the President of Kennamer Media Group, Inc., a provider of traditional and online media, specializing in the healthcare industry. On CurrentPhotographer.com he writes about iPhone and iPad applications for photographers.