"DAMN!" – you've taken a world-beating image, but just as you're about to Google "Wanderlust photo competition," a terrible reality dawns on you. There is some pesky passer-by's blurred head in the bottom corner. What are you going to do?
Teorex, the makers of Inpaint, would no doubt suggest that you head for their app.
Inpaint (temporarily on special offer at £0.69/$0.99) is an app specialising in removing unwanted objects from your image.
The name implies Inpaint's method of operation – paint a red overlay onto the objects you wish to remove, and hit the "Inpaint" button to get the app working. The cloning is reasonably snappy, only taking 20 seconds or so, and the results, at first glance, are respectable. Areas in the image around the objects to be cloned are copied, in a manner not unlike Photoshop's dust cloning tool.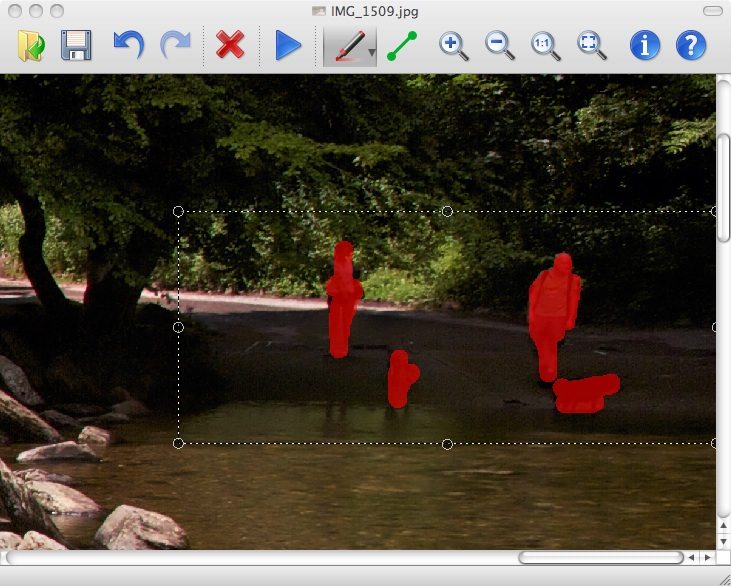 On closer inspection, you will realise, however, that like the aforementioned Photoshop tool, Inpaint does a good job on very small areas, but on larger areas, it makes a mess. Whilst this isn't surprising, it is somewhat of a disappointment when the results are compared to the "examples" on the app's website. In addition, Inpaint has a poor, almost Windows-like (you know what I mean, Mac lovers) UI, and an incredibly annoying habit of returning you to the top-left of the image you're working on, whenever you zoom in.
These considerations, when combined, do not add up to a compelling package, and for Photoshop owners, the purchase of Inpaint is nothing short of pointless – you won't be surprised to know that I don't recommend this app.
If you're still not put off, you can purchase Inpaint from the Mac App Store, or download a demo from Inpaint's website.
*The Current Photographer website contains links to our affiliate partners. Purchasing products and services through these links helps support our efforts to bring you the quality information you love and there's no additional cost to you.
Mark Myerson loves photography, and in particular, hanging around waterfalls! Landscapes and nature have always been his staple, but he relishes any opportunity to take pictures. He also works closely with many local charities, regularly providing photographic coverage of fundraising events.
Mark is also a self-confessed tech-head and OSX lover – Apple is his favourite fruit!
Mark is the owner of Mark Myerson Photography, a Devon-based business that provides a large variety of photographic services to the local community and beyond. Whilst Mark Myerson Photography specialises in event, commercial and pet photography, almost every type of photographic assignment has been covered by the company.
If you have any photography or OSX-related questions, you can contact Mark via the links given below.