The first time I left Sorrento a few years ago, after a holiday, I had a tear in my eye. No place before or since has had such an emotional reaction from me, not even my native Yorkshire. Sorrento and the Amalfi coast gets under my skin like no other.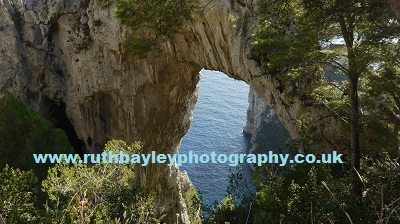 From the outset of this venture of a photography tour, it's been important to me that this tour is a holiday that sees fantastic view points of the area whilst experiencing it on a local level; getting a feel for the local culture and life, exploring local footpaths, tasting local food and understanding the way of life down here.
Rain took its hand in making this recce just what I needed to make the tour just what I wanted. After a day of torrential rain a rock fall made it impossible for me to get further down the coast, forcing me to stay very local to Sorrento and her peninsula. Though to be truly honest, I did curse my misfortune of not being able to explore further down the coast for a couple of days.
That was until an early morning shoot around town helped me to realise that actually it had all worked out for the best. If the rock hadn't fallen I would have done my original schedule which was off down the coast for two or three days. Although I will still have to return briefly to recce the walks I wasn't able to do, it's given me a chance to experience local life again, an experience I can share and pass on to my guests on tour.
This last week I have walked, over what feels like, every part of the Sorrento peninsula, reminding myself of some fabulous places and discovering new ones. All of these will be included in the tour or the following one. It will be a tour that gives sunrise opportunities from a new place that I discovered with 360 degree views over the bay of Naples and her islands and the bay of Salerno.
Walks through olive and lemon groves at harvest time are on the cards, along with private access to mozzarella being made, including access to the buffalo being milked. A one night optional stay on the island of Capri to get a chance to catch the best light, do coastal walks when they are quiet and have picnics by the Faraglioni rocks. Staying on Capri will allow us to have two sunset opportunities on the tour, one on the island and the other from the ruins of a roman villa on the mainland.
I have recced hotels, turning up unannounced to see rooms and meet with managers and I've sourced a beautiful little art hotel with luscious gardens, which I hope to use for our stay on Capri. I did re-visit restaurants and was so sad to discover that my favourite place I've ever come across had already closed for winter.
I spoke with many guests in my hotel and around and about who were on their own tours to find out what worked and what could have been done better. I listened lots and made reems of notes, and it was amazingly simple things that take seconds to do that would have made their experience that extra bit special. I also spoke with my former travel colleagues based in Sorrento to see what guests say about different hotels in the resort, which were the best and what the complaints were in others. And I've thought long and hard about if I need an extra person with me to bring up the rear of the group on the walks.
Did I have a tear in my eye when I left this time? I had moments of sadness as I said goodbye to friends, but as I left and looked at the coastline stretching out behind me, I knew that there was no need for sadness. I would be back, there's a special place in my heart for this area and I am going to love sharing it with other people.
*The Current Photographer website contains links to our affiliate partners. Purchasing products and services through these links helps support our efforts to bring you the quality information you love and there's no additional cost to you.
Living in the beautiful rural county of Yorkshire it was perhaps natural for Ruth to have an affinity with the countryside and its wildlife. Creativity is Ruth's driving force finding an outlet in television & radio she worked for many years as producer for BBC & ITV.
However a love of photography and for being surrounded by nature called her to go back to her photography training and bring pleasure and joy to people through her connection with our planet.
Staying in the moment when taking her images allows her to experience the natural magnificence unfolding before her eyes. It is this moment of mediation, of gratitude, that she evocatively conveys through her images.