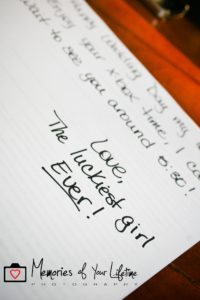 In my last post I dived into the items that I like to focus on during wedding prep and why they are so important to a couples wedding album. While in the scope of the entire wedding ceremony it is but a small part, in terms of the photography it plays a very large role. So large in fact that I was only able to dive into what I focus on during the bridal prep. In this post we get to talk about the guys.
Guys can be hard to photograph. Often times they are uncomfortable in front of the camera, uncomfortable with a stranger in their mist with a device that records their every move, and uncomfortable showing their feelings and emotions of their boy who's about to "go the distance". I have tried many different things over the years to try and get guys to lighten up around me. We all have our own methods but really when it comes down to it, just blend in.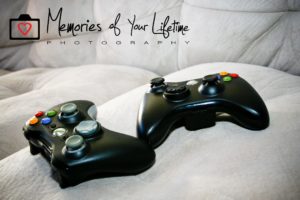 Introduce yourself when you walk into the room. I always immediately seek out the groom and offer my congratulations and let him and the other gentlemen know why I am there. Introductions are made and I usually step over the side of the room to be out of the center of attention and to let the guys go back to doing what they were doing. Guys are different when it comes to their preparation. There is less "oohing" and "aaahing" and more high fives and whiskey glass cheers. Capturing these moments are what matters to the client.
If they are drinking something, anything that they brought, it is special to them and the occasion. Incorporate that into the image. If it is a bottle of whiskey, brandy, scotch, or O'Doul's be sure and get some artistic shots of it and the grooms party in the image somehow. Capturing that image will bring back fond memories to the groom of time with his boys before he embarked on one of the most important days of his life.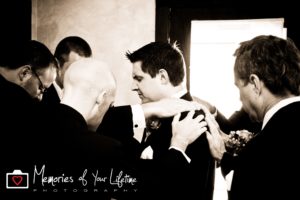 The father and son handshake/hug. If the groom has a father present at the wedding more likely than not they will be making an appearance in the grooms ready room to offer their last bit of fatherly advice and approval to their son before he becomes the man of his own house. Often times this is a very emotional exchange between the two and while not many words are ever spoken during the exchange, as they say, a picture is worth a 1000 words. Often times this image will become one of the favorites between the two men not because of what was said but because of what wasn't said. Capturing that emotion should be on your list.
The last thing that I like to focus on is the groom being the groom. Men don't require the kind of prep time that the ladies do and often times have an extraordinarily large time slot to fill. To do that his groomsmen usually bring in different party favors to pass the time from video games, to smoking cigars, to watching the game on TV right down to holding an impromptu prayer circle with the men to bring their focus back to the true meaning of the day. Whatever your groom's interest is, capturing those moments helps to really personalize their album. It brings the focus of the day full circle and really includes them and their contribution to the event. So much of the album is focused on the bride that by taking the extra time and consideration to go above and beyond during the grooms prep will pay off in the end. The bride usually falls in love with many of these photos as she was not able to participate in this part of her big day and by you capturing these moments photo journalistically in detail helps her to relive those memories as if they were there.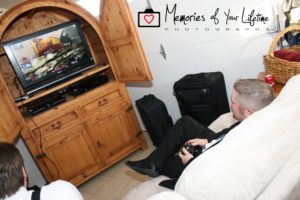 There are many, many more things to capture during wedding prep, so much of which we haven't even covered. Hopefully in future posts I can go into a little more detail. I leave you with this parting thought, put on your "client" hat rather than your "photographer" hat and think about what you would want to remember from this moment on your wedding day. Doing that will help you focus on the little things during the grooms wedding prep and thus really make your clients album a genuine collection that they will enjoy.
Until next time, happy shooting!
*The Current Photographer website contains links to our affiliate partners. Purchasing products and services through these links helps support our efforts to bring you the quality information you love and there's no additional cost to you.
My name is Robert Hillis and I operate Memories of Your Lifetime Photography. I specialize in wedding and portrait photography in San Antonio, TX. I am an artist at heart and I love to "Paint with my Lens"! I've been shooting professionally for about 5 years but I've been doing it for fun forever! I truly love what I do and I think that shows through in my photos.
I like to tell my clients that because a wedding is truly a once in a lifetime event, what I offer them will stand the tests of time. Of all of the things that you buy for your wedding, what I offer will outlast them all. The food gets eaten, the cake goes away, the tuxedo is returned and the limo is a distant memory. The dress may stay in the closet out of view for years to come but my images, my photos, will outlast you, your kids, their kids and even their kids kids. I'm not just taking photos, I'm preserving your family history. I am capturing the Memories Of Your Lifetime!