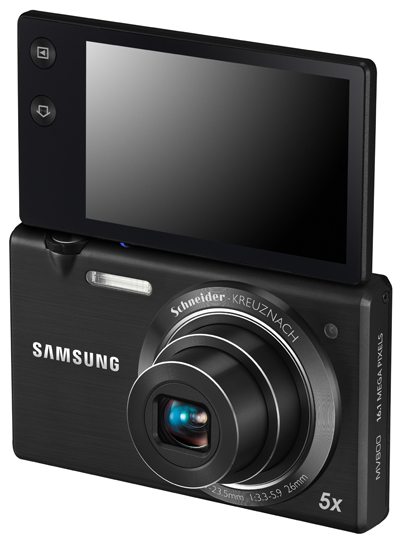 September 6, 2011
PRESS SUMMARY – Samsung Electronics Co., Ltd, unveiled the Samsung MV800 camera, an ultra-compact point & shoot with a 3.0" touch-screen Flip-out LCD display. In combining the Flip-out LCD with an impressive suite of creative features, the MV800 enables users to capture life's moments from any angle and create images that reflect their unique perspective on the world.
The MV800 camera offers enhanced picture quality, capacitive touch screen technology, as well as many innovative and user-friendly features to ensure that all users can relax and enjoy their shooting experience. Consumers can be confident they will be able to capture even the most challenging shot whether they are behind or in front of the lens.
The MV800 camera  builds on the success of Samsung's DualView technology and is the first premium compact model to feature a 3.0" Wide Flip-out touch-screen LCD Display. Samsung has designed the device in response to evolving consumer demands for maximum flexibility, ease-of-use, creativity and style.
no images were found