Feb 8, 2011 – PRESS SUMMARY – PENTAX Imaging Company has announced its 12th generation of adventure series digital cameras – the PENTAX Optio WG-1 and PENTAX Optio WG-1 GPS. Featuring outstanding waterproof, dustproof, shockproof, coldproof, and crushproof capability, these extra-rugged models take adventure photography to new heights (and depths).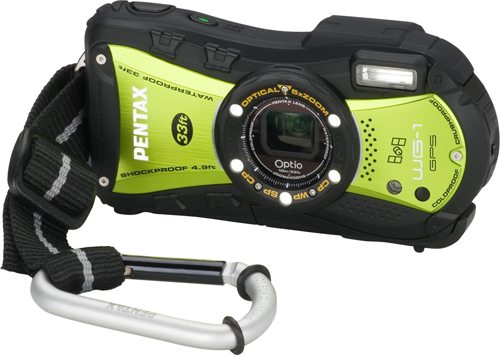 The new and improved features on the PENTAX Optio WG-1 include:
14 megapixel sensor.
Waterproof to 33 feet.
Shockproof design to withstand falls up to five feet.
New crushproof construction* withstands up to 220 pounds (100kgf kilogram-force).
Enhanced Digital Microscope mode offers five macro LEDs for excellent macro lighting plus a detachable macro stand for steadier capture.
Face Detection technology including a new Self-Portrait Assist mode perfect for facebooking and other social networking activities.
Available with and without GPS, the WG-1 GPS functionality* tracks and records positional data recording with images making it easy for users to check the shooting locations of captured images.
*Measured under PENTAX-original testing standards.** GPS included only on the select WG-1 GPS model.
Other important WG-1 features include:
Coldproof to sub-freezing temps of minus 10 degrees C (14 degrees F).
Dustproof protection.
Wide angle 5X internal optical zoom lens (28-140mm equivalent).
Video capture in widescreen 720p HD at 30 frames per second.
A woven web fabric strap with a carabiner to attach the camera to a backpack and other outdoor gear.
Eye-Fi wireless SD memory card connectivity.
Priced at $349.95 USD, Optio WG-1 will be available in a choice of Black or Purple, while the Optio WG-1 GPS will be priced at $399.95 USD and available in Black or Yellow Green. Both cameras will ship in April 2011.
–
*The Current Photographer website contains links to our affiliate partners. Purchasing products and services through these links helps support our efforts to bring you the quality information you love and there's no additional cost to you.
Founder of Current Photographer, co-host of The Digital Photography Cafe Show, Designer, Photographer, and overall tech geek.