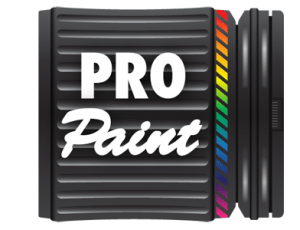 Welcome back to another installment of Droidography. I think there will never be a shortage of apps for me to review and its getting harder to narrow it down. This week I will be reviewing a photo app called
PRO Paint and seeing if its is worth its Salt.
Once you launch PRO Paint, you are given 4 options. They are: Take a Pic, Use Existing Pic, Blank Canvas, or Upgrade to PRO Zoom Camera 5x. Also from the opening screen you can access preferences by using the phones menu button. Lets visit the preferences area first and see what we have there.
In the preferences menu, you have three areas of settings: Picture Settings, App Settings, and Contact the Developer.  Picture settings obviously adjusts the picture settings such as image resolution, jpeg quality, and lets you toggle the autofocus on or off by default. The app settings area is slightly more lengthly, but not overly so. In a nutshell your app setting menu lets you turn on or off to your liking different buttons to take pics, whether you show a preview of the image or not, where the image saves, etc. Lastly in the preferences menu you can choose to contact the Developer via his website, email, Twitter, or Facebook.
Once you have chosen your preferred settings, you can use the back button to return to the main menu where we are once again faced with the four choices mentioned above. Lets take a pic and see how that works first. Once we touch that menu option we are brought to a camera screen which gives us several options including filters (sepia, mono, negative, green-tint, etc), exposure settings, flash settings, AF, and finally a video setting. So lots of options here. After you choose whatever options you would like then you can save the photo, delete, picwiz (more about that shortly), edit, or share it. If you save the photo it saves the photo in your gallery and you still are in the camera screen and if you delete obviously it gets rid of your photo. Read More→