Current Photographer is a WordPress website design agency created to service the needs of todays busy photographer. Whether you're just getting started in business and need your first photography website, or you've been thinking about a mobile-friendly redesign, Current Photographer has a solution to fit your needs and budget.
Our website is filled with thousands of free resources created by working professionals from around the world. Take advantage of this knowledge base and learn how to Make Better Photographs with how-to's and inspirational stories, Grow Your Business with our sales and marketing tips, keep up with the latest photo industry News and Product Reviews, and go Inside WordPress for tips on how to run a successful WordPress powered photography website.
We hope you enjoy the information found here and invite you to join in the community as we all work to better our skills and grow as photographers.
History
Current Photographer is a subsidiary of Current Media Group, LLC, and was founded in 2009 by Trevor Current. The website started out as a hobby project with a focus on helping educate and inspire the community to make better photos. To much surprise, this single author blog quickly grew to fifteen regular Contributors and Guest Bloggers, and went from a few thousand visitors per month to a quarter million visitors per month.
Over the past decade there has been a trend towards alternate means of education. Many of today's photographers are not traditionally trained, nor have a degree in photography. As such the need for photography information has increased exponentially, but not just about how to make great photos, but also about how to run a successful business. Because of this trend, Current Photographer expanded its offerings beyond art creation to include marketing and sales generation.
One of our major areas of focus was the photographers' online presence. How they could use these "new" technologies to build community, generate sales leads, and increase revenue. Hundreds of articles and videos later, and we have generated a resource that has helped photographers from all over the world take their businesses to the next level.
But even with all the educational resources available, the one problem photographers still face is, lack of time. Many emerging pros are weekend warriors and pick up gigs when they can. Many full time pros are picking up every gig they can just to pay their bills. But neither have the time to manage and grow their businesses the way they want.
While we continue to grow our educational resources, we have expanded our offerings to include a powerful website builder platform with managed hosting and support. This empowers photographers to build their own beautiful studio websites, while we manage all the technical work. And our integrated sales tools will help photographers sell more products and increase revenue.
About the Founder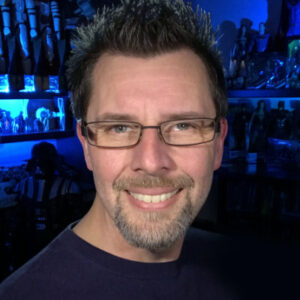 Trevor Current is a professional Designer/Photographer with over 30 years of experience in the field. He works with Fortune 100 consumer product companies, high-tech B2B companies, associations, startups, and photographers worldwide. His work can be seen in national ad campaigns, consumer packaging, collateral, trade show exhibits, and websites. Trevor is also the co-host of the popular Digital Photography Cafe Show, a weekly audio and video podcast about "the art and business of photography".
Ever since he was a child, Trevor had a passion for photography. It began by sneaking snapshots on his mother's 110, to learning the fundamentals of photography with his 35mm Ricoh SLR. The creative vision that could be expressed through a single photograph sparked his desire to study the visual arts, and in 1990 he graduated Salutatorian with a Major in Design and Minor in Photography.
Even though Design has been the focus of his career, he incorporates product photography in to his work. "I really enjoy commercial photography, and it's a great complement to my design skills. It has enabled me to see my design vision through from start to completion of client projects." To round out his career, he has taught Adobe® Photoshop®, Adobe® Illustrator® and Mac computing to students looking to break into the fields of photography and design.
With that experience, and his commitment to education, Trevor created Current Photographer to provide the photo community with the latest information and resources they need to grow as photographers and to run successful photography businesses.