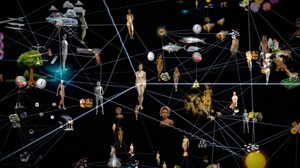 We are really excited to announce a new photography contest. CurrentPhotographer.com has partnered with Talenthouse and Tiffany Shlain to bring you the "Get Creative with Filmmaker Tiffany Shlain" Photography Contest.
Tiffany Shlain, honored by Newsweek as one of the 'Women Shaping the 21st Century' and an award-winning filmmaker, is inviting graphic designers, photographers and illustrators to submit their artistic interpretation of the script, "Declaration of Interdependence" to be featured in her new short film. Participants must submit their entries in the form of graphics, photographs or illustrations which will be animated by Sundance Award-winning animator, Stefan Nadelamn.
The new short film "A Declaration of Interdependence" will be launched at the theatrical release of Tiffany Shlain's feature film "Connected" in September 2011. (You can view the "Connected" trailer below for inspiration.)
Tiffany Shlain will choose the winners from all qualified submissions with special consideration for the top voted entries.
Up to 10 submissions will be featured in the short film "Declaration of Interdependence" which will be launched in September 2011. Each winner and their submission will be featured in a making of documentary and on tiffanyshlain.com and her social media channels.
Dates:
Submission Deadline: August 4, 2011
Voting Starts: August 5, 2011
Voting Ends: August 9, 2011
Winner Announcement: August 12, 2011
Click here to view the contest page for more information and to enter. Be sure to read the Guidelines and Official Rules before entering. If you have any questions about the contest or are experiencing problems, feel free to contact our Customer Support team.
Good luck to everyone who participates. This is a great opportunity to have your work featured in a short film from an award winning filmmaker. Also be sure to invite your family, friends, social network and who ever else you can think of to vote for your images. Images with the most votes will receive "special consideration" from Tiffany Shlain during the selection process.
–
*The Current Photographer website contains links to our affiliate partners. Purchasing products and services through these links helps support our efforts to bring you the quality information you love and there's no additional cost to you.
Founder of Current Photographer, co-host of The Digital Photography Cafe Show, Designer, Photographer, and overall tech geek.