August 18, 2011 – PRESS SUMMARY – Induro, makers of tripods, heads and accessories designed for demanding professional photographers, announces the new lightweight BHS Ballheads.
The new Induro BHS-Series Ballheads offer a lightweight, well-balanced adjustable support for a wide range of cameras and lenses and are compatible with most compact and professional tripods. Providing a secure dual quick release locking system and built-in bubble ensures fast camera mounting, dismounting and leveling. A single lever locks camera position and head rotation simultaneously. Each Ballhead includes a matching Snap-in Style Quick Release Plate.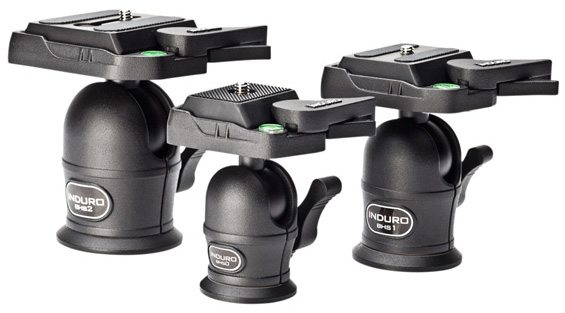 "Induro's new BHS-Series Ballheads have been designed with today's on-the-go professional photographer in mind," said Jan Lederman, President of Induro. "With features that allow for spot-on accuracy as well as extra camera locking security, photographers can be confident that these ballheads will be an affordable accessory they can rely on."
Features include:
Single Action Adjustment for quick and precise camera positioning
Integrated Bubble Level allows adjustment to prevent uneven pans and tripod head movements
Dual Locking Quick Release System with patented spring lock combined with manual release provides extra security
Includes Snap-in Quick Release Plate
The Induro BHS Ballheads are available in three sizes from retailers throughout the United States at prices ranging from $52 – $76 depending on the model.
–
*The Current Photographer website contains links to our affiliate partners. Purchasing products and services through these links helps support our efforts to bring you the quality information you love and there's no additional cost to you.
Founder of Current Photographer, co-host of The Digital Photography Cafe Show, Designer, Photographer, and overall tech geek.