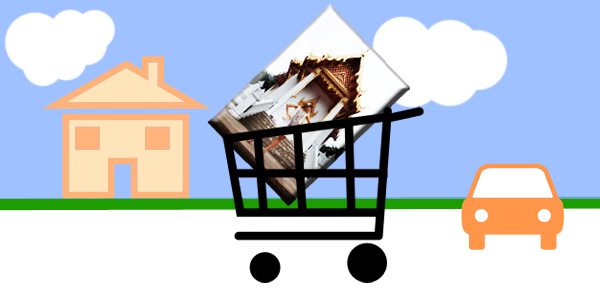 Technically speaking today's marketing campaign is really business 'best practice' or something that might fall into the realms of customer service.
Delivering your work
You might be a photographer that likes to think that you 'always deliver' but what im really talking about is actually delivering your clients orders to them in person.
As I write this article I'm sitting on a tube on the London Underground and doing just that.
Wednesday afternoons are set aside every week for me to drop off orders to all of my clients. It could be easier to send orders in the post, by courier or even ask my clients to come to me to pick up their order.
But I like to go that extra mile and offer a service that is essential to my marketing and my brand.
A couple of weeks ago I wrote an article at PhotoCreative365 titled Wasting Time on Branding. Inevitably you might not agree with some of the points I make in the article but the idea I was trying to get across was that you are your brand. More importantly, the things you do, defines people's perception of your business.
Running a successful business only begins with great images. If you want to keep clients for life and have them regularly recommend you, then it's the little extras that sometimes make all the difference.
So why is delivering your work in person one if those little extras?
It's a service of convenience, and those are the ones that people like best. These days I mostly shoot babies so my clients (young mothers) don't want to be dragging their 4 month old kid with all of their stuff across town just to pick up a couple of photos. As for picking up large wall art orders….. forget that!
It's an unexpected extra. I'm often asked 'Will I get that posted to me?' and when I reply 'No I'll bring them round next Wednesday afternoon' the reply is often 'that's brilliant!' or something along those lines.
More time for marketing
Having another chance to meet with your clients face to face gives you the opportunity to market your business further. When do you think the best time to get a referral from a client is after all? Before they've seen the final images? While you're breaking it to them how much they are going to have to spend? Or perhaps it's when they have an impressive finished piece in their hands? This is the ideal opportunity to ask 'Didn't you mention you had a friend that was interested in a photo-shoot?'
Promoting other areas of your business
If you shoot portraits and weddings for example, then have some samples or literature with you. Here's a couple of interesting statistics from my own business.
80% of the couple's who's weddings we shot in 2010 are either pregnant or have just had a baby.
10% of the couple's who's baby we have shot this year are getting married in the next 12 months.
It's surprising how many extra orders I pick up when I'm dropping off work. There's always one or more images that a client might have been on the fence with so you have an opportunity to ask if they'd like to place a further order.
Instant Feedback
In the few minutes you're spending going through your clients images with them take feedback notes…..even if you're not sitting there will a pad and pen you can make a note of their thoughts later. Use the feedback as an excuse for your next contact 'you mentioned your parents wanted some prints last time I saw you, this week we have an offer on….'
Quality control and peace of mind
The post bends prints and courier services damage wall art. These are unfortunate facts of life and issues you will at some point have to deal with. Delivering in person means that you don't get a call from a client in floods of tears because the glass is broken in their $1000 frame. It also acts as insurance for you. I've had a client call me up within days of delivering a wedding album telling me that the pages are damaged. Of course they assured me that they had not played any part in damaging the album but had I not gone through each and every page with the client at delivery I'm sure they would have claimed that it turned up damaged.
Luckily my lab replaced the album at no extra charge but it could have been a costly issue.
It's genuinely the most rewarding part of my job
After everything is selected and paid for what you have left is a client simply enjoying your work. I didn't choose photography as a career path because I thought it would make me a millionaire, nor do I do it to win awards or acclaim. I enjoy my photography because my clients enjoy and appreciate my work. There's certainly an element of having ones ego stroked but a little self indulgence isn't going to hurt once and a while.
So what are the downsides of delivering in person?
Time
Time is always an issue but If you organise yourself then you can get things done quite efficiently. Today for example, I've spent about two hours making my deliveries (6 in total) and I've still made time for a baby shoot, printing and packing 200 mail-outs and a wedding viewing…… oh and I also wrote this article……. and if you were wondering…….I was back in time to dinner and The Apprentice (and in bed at 10:30pm….knackered)!
Cost
In the long run you'll spend a lot less money in travel than you would with postage and packing.
It's easier for clients to pick up orders from the studio
Easier for who? If you're answer is you then you're missing the point!
Ways to organise your deliveries
Have a delivery day or afternoon which you try and keep to every week.
Let your clients know that (Wednesday) is your delivery day so they can arrange to be available ahead of time.
Having a set day for delivery will also help you organise your schedule and your workflow.
Plan your delivery route. It sounds obvious but it's fairly easy to work out how long everything will take. Use tools like Google maps or something similar to the Transport For London website we have here . Let your clients know what tine you hope to be with them and try not to be too vague.
Arrange a time with your clients and send text messages or call them an hour or so before you get there to let then know you are on your way.
All this considered….
Perhaps delivering my work is a pretty essential part of my own marketing agenda and it's important to remember that even after you've been paid your are still selling your services.
*The Current Photographer website contains links to our affiliate partners. Purchasing products and services through these links helps support our efforts to bring you the quality information you love and there's no additional cost to you.
Michael has been working as a photographer for the last ten years. In that time he has shot over 100,000 peoples' portraits and worked in four different continents. In 2001 Michael graduated with a degree in photography from Manchester Metropolitan University.