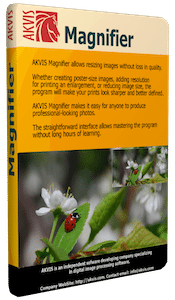 Upsizing, with current technology, is one of the thorniest tasks you can perform on an image. Photoshop can upsize your image to a limited degree without loss of too much quality, but there are numerous other specialised apps which have tried (and many have failed) to improve on Adobe's upsizing formula. One of them, PhotoZoom Pro 4, I have already reviewed, but this review is dedicated to a competitor – AKVIS Magnifier.
AKVIS isn't hugely pretty, but the layout of the controls within the app is sensible and clear. Your opened picture is displayed on the left, while the upsizing and adjustment tools are in a column on the right (think Lightroom). You can have one of two set-ups – express or advanced. The express set-up reduces the displayed controls to size/ppi and edge sharpness/artefact removal, whilst the advanced set-up adds sliders controlling grain, "simplicity" (how much you want to smooth out pixelation) and edge smoothness. In the advanced set-up, there is also the option to use Unsharp Mask, but, to be honest, the last time you'd want to be sharpening your image is when you've just upsized it – if you use this control, watch out for jagged edges coming at you from out of the screen.
By using AKVIS' presets, and then applying little tweaks to the controls here and there, you can get quite a usable picture, even when you upscale by 500%. Don't get me wrong – the quality is significantly degraded, and I don't recommend you try this stunt. For something to hang on your wall, however, the picture AKVIS produces is probably acceptable.
One feature which is a big plus-point in AKVIS is the before and after viewer, which previews changes to the image before you apply them. Upsizing is an imprecise art at the best of times, requiring you to decide which settings provide the best look to each individual image, so the ability to try settings before applying them is very helpful. What's more, the preview doesn't take a day to load, as it does in Photoshop – 10 seconds was the longest I had to wait.
In addition to the app version, it is also worth noting that AKVIS comes in a Photoshop plug-in flavour – a nice touch.
With all stand-alone upsizers, I'm a bit sceptical about how much better they are than Photoshop. AKVIS, however, is quite impressive, and I see it as the Neat Image of the resizing world – not pretty, but focused and providing a quality service. Cost is a concern, however – even if AKVIS is better than Photoshop, is it better to the tune of $129/€99? I would say not, but why not make up your own mind…
You can demo or buy AKVIS Magnifier on AKVIS' website.
*The Current Photographer website contains links to our affiliate partners. Purchasing products and services through these links helps support our efforts to bring you the quality information you love and there's no additional cost to you.
Mark Myerson loves photography, and in particular, hanging around waterfalls! Landscapes and nature have always been his staple, but he relishes any opportunity to take pictures. He also works closely with many local charities, regularly providing photographic coverage of fundraising events.
Mark is also a self-confessed tech-head and OSX lover – Apple is his favourite fruit!
Mark is the owner of Mark Myerson Photography, a Devon-based business that provides a large variety of photographic services to the local community and beyond. Whilst Mark Myerson Photography specialises in event, commercial and pet photography, almost every type of photographic assignment has been covered by the company.
If you have any photography or OSX-related questions, you can contact Mark via the links given below.