June 17, 2010 – PRESS SUMMARY – PENTAX Imaging Company announced that the PENTAX Optio W90 will be available soon in a third color choice. As early as next month, the eleventh generation PENTAX Optio W90 will become available in orange, in addition to green and black.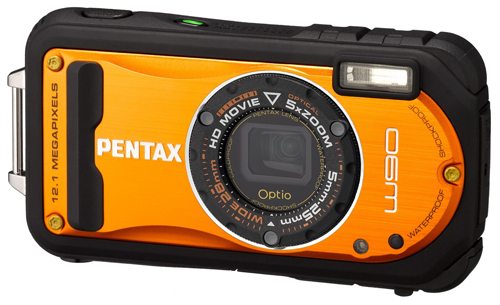 Every PENTAX Optio W90 offers enhanced waterproof, shockproof, dustproof, and coldproof performance and features an inventive Digital Microscope mode with LED lighting to capture small but intriguing subjects. Designed with the look of mountaineering equipment, every Optio W90 kit includes a woven Web fabric strap complete with a carabiner to attach the camera to a backpack and other outdoor gear.
Adventure photography doesn't get any better than this. First announced in February 2010, the Optio W90 already has garnered theOutside magazine's Gear of the Year 2010 award as well as editorial praise in other national publications including Better Homes & Gardens, Motor Boating, Men's Journal, Popular Photography & Imaging, and Time magazine.
The rugged Optio W90 offers photographic performance, innovative features and style that surpass other outdoor compact digital cameras now available on the market.
This latest W90 will ship by July 2010 for $329.95 and will be available exclusively on www.tigerdirect.com.
–
*The Current Photographer website contains links to our affiliate partners. Purchasing products and services through these links helps support our efforts to bring you the quality information you love and there's no additional cost to you.
Founder of Current Photographer, co-host of The Digital Photography Cafe Show, Designer, Photographer, and overall tech geek.