May 8, 2010 – PRESS SUMMARY – PENTAX Imaging Company announced that the PENTAX Optio W90 digital camera is an OUTSIDE MAGAZINE Gear of the Year Award winner. The Gear of the Year Award is announced in the Spring/Summer 2010 Outside Buyer's Guide hitting newsstands today and remains available through September of this year.
"This is one cool camera," said Buyer's Guide editor Sam Moulton. "With rugged specs and a design that makes it look like it belongs on a mountain trail, it offers everything an outdoor adventure enthusiast could want in a point and shoot camera," added Sam Moulton.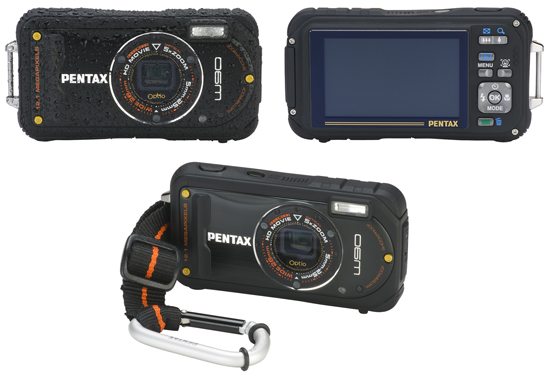 "And when the shooting begins, the W90 brings some serious photographic punch," added Moulton.
The eleventh generation PENTAX Optio waterproof digital camera is built for rugged adventure in every way. With enhanced waterproof, shockproof, dustproof, and coldproof performance, the camera also features an inventive Digital Microscope mode with LED lighting to capture small but intriguing subjects. Designed with the distinct look of mountaineering equipment, the Optio W90 kit includes a woven web fabric strap complete with a carabiner to attach the camera to a backpack and other outdoor gear.
Adventure photography doesn't get any better than this. The rugged Optio W90 offers photographic performance, innovative features and style that surpass other outdoor compact digital cameras now available on the market.
Waterproof to 20 feet for reliable underwater photography
Shockproof to 4 feet withstanding the rigors of extreme use
Coldproof to sub-freezing temperatures for use in wintery, snowy activities
12.1 megapixel sensor and wide angle 5X optical zoom (28-140mm equivalent)
Digital Microscope mode with LED lens lighting perfectly captures the smallest and closest macro subjects as near as 1cm from the camera
Large 2.7 inch LCD with 16:9 widescreen aspect ratio that is easy to view in strong light or underwater
Capture movies in widescreen 720p HD video at 30 frames per second
An HDMI port plays back beautiful high resolution images and video on HDTVs
Advanced Pixel Track Shake Reduction captures blur-free images in any lighting
Fast Face Detection, Smile Capture, Blink Detection with processing modes specifically designed for portraiture, and new Pet Recognition captures up to 3 pre-programmed pet faces in memory
Infrared remote control compatibility with new waterproof Remote Control WP, as well as other PENTAX infrared remotes
Autofocus assist lamp helps to quickly and accurately focus, even in challenging lighting
Eye-Fi wireless SD memory card connectivity for built-in Wi-Fi capability to transfer photos and videos from the camera to a computer or an online sharing site such as Picasaweb, Flickr, Facebook and YouTube (Eye-Fi cards sold separately.)
Priced at $329.95 USD, the camera is shipping now. A waterproof infrared remote control (sold separately) for use with the PENTAX Optio W90 and other infrared compatible Optio models is available for $29.95 USD.
Check out the latest prices from Amazon.com for the Pentax Optio W90 available in Black or Pistachio Green.
If you're interested in purchasing this product we would love for you to use our affiliate links above.
There's no additional cost to you and you'll be supporting the CurrentPhotographer.com community.
The small commissions we receive will help offset our costs allowing us to continue delivering the great content you love.
–
*The Current Photographer website contains links to our affiliate partners. Purchasing products and services through these links helps support our efforts to bring you the quality information you love and there's no additional cost to you.
Founder of Current Photographer, co-host of The Digital Photography Cafe Show, Designer, Photographer, and overall tech geek.