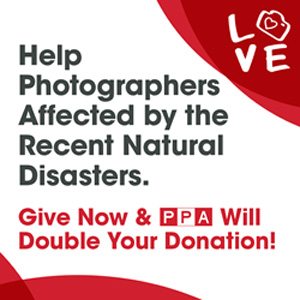 ATLANTA, GA (PRWEB) SEPTEMBER 21, 2017
As the affected areas struggle to cope with the devastation and loss caused by hurricanes Harvey and Irma, and in anticipation of upcoming potentially threatening storms, Professional Photographers of America (PPA) has taken steps to assist photographers as they rebuild their lives. The PPA Board of Directors has secured up to $100,000 in matching funds for the Disaster Relief Fund as the Association continues its fundraising efforts.
"While PPA is not known as a relief organization, we are happy that through PPA Charities we can reach out to support our affected members with some assistance during the difficult recovery process from these devastating storms," said Rob Behm, PPA President.
PPA Disaster Relief Fund is managed through PPA Charities, a 501(c)(3) organization. The intent is to disburse the money collected to PPA photographers located in the areas affected by the recent storms. PPA is challenging its other members, along with vendors and suppliers in the photographic industry, to join forces by contributing to the relief fund. Donations can be made at PPA.com/DisasterRelief. The grant will distribute funds to each PPA member or studio directly affected by these recent natural disasters.
To apply for the fund, PPA members in the disaster areas should visit PPA.com/DisasterRelief and fill out the application providing information and details including their name, studio name and address, brief description of damage/loss and how they can currently be reached.
About PPA
Professional Photographers of America (PPA) is the largest international nonprofit association created by professional photographers, for professional photographers. Almost as long-lived as photography itself, PPA's roots date back to 1869. It assists more than 30,000 members through protection, education and resources for their continued success. See how PPA helps photographers Be More at PPA.com.
*The Current Photographer website contains links to our affiliate partners. Purchasing products and services through these links helps support our efforts to bring you the quality information you love and there's no additional cost to you.
Founder of Current Photographer, co-host of The Digital Photography Cafe Show, Designer, Photographer, and overall tech geek.