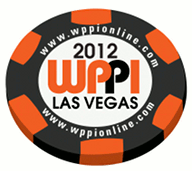 November 3, 2011 – PRESS SUMMARY – Wedding & Portrait Photographers International (WPPI) announced that registration is now open for WPPI 2012 via its convention and trade show website: http://www.wppionline.com/show/register.shtml
All WPPI 2012 classes, events and trade show will take place at the MGM Grand in Las Vegas, NV, from February 16-23, 2012. WPPI is the biggest show in the world for wedding and portrait photographers. Last year, more than 16,000 professional photographers gathered in Las Vegas, NV, to learn from the best and see the latest and greatest products from the hundreds of exhibitors that participate in the trade show.
"After breaking attendance records in 2011, WPPI 2012 is poised to be the biggest and best event in our history," said George Varanakis, Show Director of WPPI and Publisher of Rangefinder.  "Featuring an all-star speaker lineup and a diverse and unparalleled menu of special events, WPPI 2012 is primed for another banner year."
Popular programs like WPPI Plus, Photographers Ignite! and the Awards Night extravaganza, as well as helpful features like Pre-Board, will make WPPI 2012 the most exciting ever.
Full registration for WPPI 2012 and all workshops and events, are open now. The early bird registration rate for access to the WPPI 2012 Convention and Trade Show is $199 for members and $379 for non-members through December 14, 2011. After December 15th, WPPI 2011 registration will be $259 for members and $399 for non-members. These rates include a free guest, all Platform classes, special events and three days of the biggest trade show in professional photography.
For more information about WPPI 2012 and all of its workshops and events, please visit: www.wppionline.com.
–
*The Current Photographer website contains links to our affiliate partners. Purchasing products and services through these links helps support our efforts to bring you the quality information you love and there's no additional cost to you.
Founder of Current Photographer, co-host of The Digital Photography Cafe Show, Designer, Photographer, and overall tech geek.