PRESS SUMMARY – Samsung Electronics Co., Ltd, announced the launch of the WB750 camera – featuring a proprietary BSI (Back Side Illuminated) CMOS sensor that ensures consistent professional images and video. Featuring a newly-redesigned image sensor, lens and image processor, the WB750 brings to bear a range of new technologies to deliver unprecedented levels of performance and ease-of-use. The WB750 also features an 18x optical zoom with 24x Smart Zoom technology, making it the longest ever zoom in Samsung's compact camera portfolio.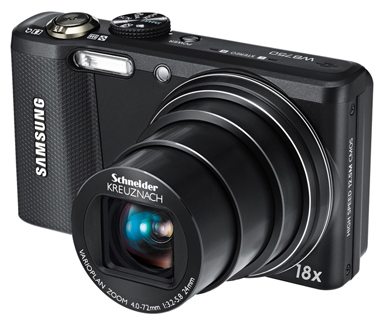 Thanks to its 12.5 Megapixel BSI CMOS sensor, with the WB750 it's easier than ever to produce consistently high-quality images and video. Introduced to Samsung's compact camera range for the first time, this pioneering BSI CMOS technology works to significantly reduce image noise and distortion, delivering clear, precise photos and video even in low light conditions. The WB750 is the perfect compact digital camera to have on hand when there is a need for speed, as it can capture stills at up to 10 frames per second in high-speed continuous mode.
The WB750 offers users the best of both worlds: high-quality digital photos as well as Full HD video for incredible depth of color and detail. Samsung's sophisticated Dual Capture function seamlessly unites the two, allowing users to take 10 Megapixel photos while simultaneously recording video in full 1080p HD quality.
The camera's, Creative Movie Maker feature allows users to create movie clips in Full HD quality, complete with a range of creative special effects, right on the camera itself. Rather than needing to upload content to a PC, this feature allows users to get creative by collating photos and videos into one themed file on the device itself, adding impressive effects and music instantly.
Breathe life into images
With its range of Panorama features, the WB750 helps convey a sense of dynamism to images. Action Panorama, for example, tracks a moving person or object with a static background to record movement within a single, still photo, whereas the Live Panorama function allows users to easily capture large groups of people simply by holding down the shutter button and sweeping the camera across the scene. The 3D Panorama, works to bring photos to life even further, using one lens and one sensor to create a 3D image, to give family and friends a more realistic appreciation of the photographer's trip when they return home.
Consistent quality at the user's fingertips
The camera's innovative HDR (High Dynamic Range) provides an abundance of colors which give an outstanding richness to the WB750's images, opening up the color spectrum for the most vibrant results. Providing the opportunity to take hyper-realistic images without the use of photo editing software, HDR brings an added level of clarity to images, whether the user is capturing a lake at sunset or a tree-lined street in the morning sun. The WB750 merges multiple exposures of shots to ensure images have an artistic finish, while creating a greater range of luminance results in perfect exposure across all areas. The camera's HDR feature ensures that WB750 users capture their creative visions through the latest cutting-edge technology.
With Smart Auto 2.0, the camera can recognize and automatically select the most appropriate setting from a choice of 16 still-image modes and four movie-clip settings, helping users achieve stand-out results. So, even when users are caught-up in the moment, the WB750 will capture every special moment of the user's journey.
Customize the world
Creating stand-out images is even more effortless with the WB750, thanks to its Smart Filter 3.0 feature. The extensive variety of effects and color options lets users customize shots easily. New special effects include: Oil paint, Cartoon, Ink Painting Color and Cross Filter. Users can enjoy the effects of these features both in preview mode and after taking a picture. In addition, Zooming Shot, which can be used in scene mode, makes creating unique shots even easier. By experimenting with the focus of images, users can highlight the center of a shot while blurring the rest, thereby selecting the part of the image the photographer wants to stand out.
Staying in creative control
For more advanced, or more adventurous photographers, the WB750 offers a full range of options designed to place more control in the user's hands, including full manual mode. Aperture Priority and Shutter Priority settings let users experiment with shutter speeds and depth of field, so shooting fast-moving images in low light has never been easier.
Keeping it fun
Magic Frame further builds on the WB750's creative suite, allowing users to express themselves through adapting photos to reflect one's mood and personality. Frame templates include Wall Art, Old Film, Ripple, Full Moon, Old Record, Magazine, Holiday, Classic TV and more, and are incredibly simple to achieve. Just point the camera at the desired subject, fit it within the on-screen template, capture and – like magic – the frame appears.
Intelligent Face tracking
When the subject starts moving, it can be hard to keep the camera focused. This ceases to be a problem with Intelligent Face tracking, which automatically recognizes, follows and focuses upon a person's face when they start to move. So, even if the photographer is trying to capture special images of friends dancing at a party, or a child taking his first unsteady steps, they'll never miss a perfect shot.
*The Current Photographer website contains links to our affiliate partners. Purchasing products and services through these links helps support our efforts to bring you the quality information you love and there's no additional cost to you.
Founder of Current Photographer, co-host of The Digital Photography Cafe Show, Designer, Photographer, and overall tech geek.