May 26, 2011 – PRESS SUMMARY – Leading the way in carrying solutions for over 30 years, Tenba announces the new Discovery collection of incredibly lightweight bags for photographers with an active outdoor lifestyle. This new collection includes an adventure-friendly Photo/Hydration Daypack that's compatible with a hydration reservoir, and a camera Shoulder Bag that provides quick access to a large camera system. The Discovery collection features water-repellant fabrics, heavy-duty hardware and professional-level protection and construction that meet Tenba's "Crafted Without Compromise" standard. Both bags are available in black/gray and sage/khaki color combinations.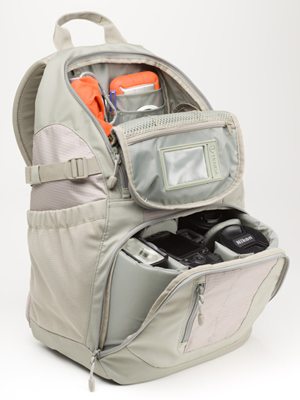 The Photo/Hydration Daypack weighs only 2.4 pounds and features a hydration-ready rear compartment that fits a reservoir up to 72 ounces. This rear pocket can also be used for a slim tablet or laptop up to 11 inches. A pop-out, padded camera insert fits any size DSLR with 4-6 lenses and accessories, and the insert can be removed to convert the bag for non-photo use.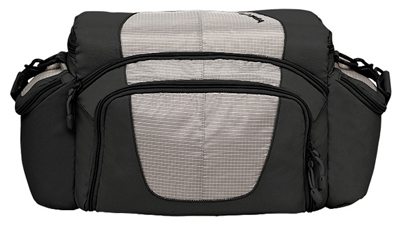 Weighing less than 2 pounds, the Shoulder Bag provides quick access to 1-2 DSLR bodies and 5-7 lenses, plus flash and accessories. An overlapping top zipper closure protects against the elements, and padded side cargo pockets have cutaway openings for easy retrieval of equipment.
Both bags have waterproof bottom panels for protection when the bag has to be put down on a wet surface, and they include Tenba's exclusive WeatherWrap™ fast-deploying all-weather cover.
The new Discovery bags are available now at suggested retail prices from $119.95 to $129.95 for the Shoulder Bag and Daypack respectively. To find more information about Discovery collection, and to see a full video demonstration of all Tenba products, visit www.tenba.com.
–
*The Current Photographer website contains links to our affiliate partners. Purchasing products and services through these links helps support our efforts to bring you the quality information you love and there's no additional cost to you.
Founder of Current Photographer, co-host of The Digital Photography Cafe Show, Designer, Photographer, and overall tech geek.