August 28, 2012 – PRESS SUMMARY – Profoto, the world's leading manufacturer of lighting solutions for still and motion photography, announces the new Pro Plus line of flash heads.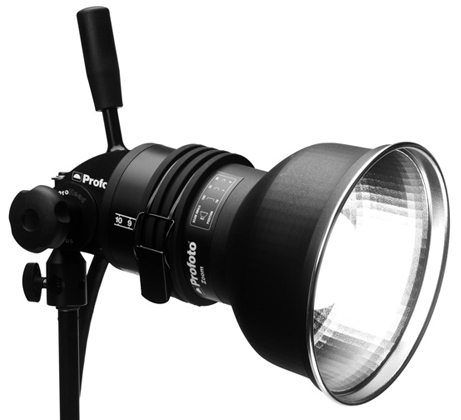 Compatible with over 120 different Profoto Light Shaping Tools and accessories, Pro Head Plus and Pro-B Head Plus have the following four upgrades:
New safety lamp head connector – The new safety lamp head connector is the most visible upgrade. The safety lamp head connector helps prevent dust and moisture from penetrating the generator. Note that the safety lamp head connector is 100% backward compatible.
New improved stand adapter – The stand adaptor has been upgraded with a fixed screw. Unlike the previous version, it cannot be unintentionally screwed off. In addition, the stand adaptor is now equipped with an additional hole, which creates improved mounting options.
New patent pending "Perfect Arc" flashtube – The "Perfect Arc" flashtube has a new design that vastly improves the triggering capabilities on low power settings. This also provides better color and energy stability from flash to flash on all power settings. Note that the new flash tube is compatible with all previous generations of ProHead and Pro-7 Head.
New improved protective glass cover – The glass cover has been made thicker, which makes it even more robust and safe to work with.
ProRing Plus and ProRing 2 Plus have been updated with the new safety lamp head connector.
–
*The Current Photographer website contains links to our affiliate partners. Purchasing products and services through these links helps support our efforts to bring you the quality information you love and there's no additional cost to you.
Founder of Current Photographer, co-host of The Digital Photography Cafe Show, Designer, Photographer, and overall tech geek.